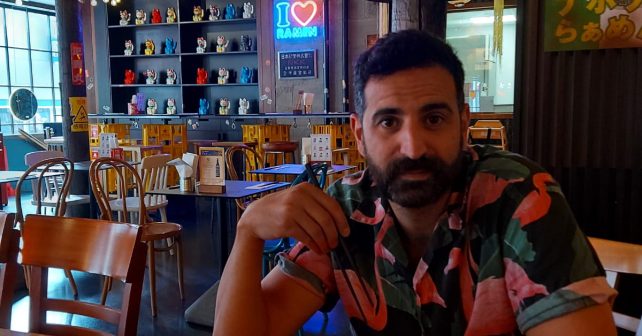 Oh to still get a meal in the West End for under a tenner! Turns out if you look hard enough, you can.
Yokocho, hidden on Heddon Street near Leicester Square promises to transport diners back to the old narrow alleyways of Japan. And it does.
As you head downstairs to eat, it's like entering a different world. On one wall there's Asian nick-nacks from the end of the last century – think wind-up toys, yo-yos and multi coloured trinkets. Above our heads multi-coloured paper lanterns slice across the room.
Fun fact: Yokocho is Japanese for alleyway
I'm here with my partner and toddler to try the amazing Retro Ramen deal for £9.99. There's three dishes to choose from. I opt for a steaming bowl of the Hakata Tonkotsu. It's a multi-coloured mix of bbq pork belly, mushrooms, spring onions, seaweed and boiled egg.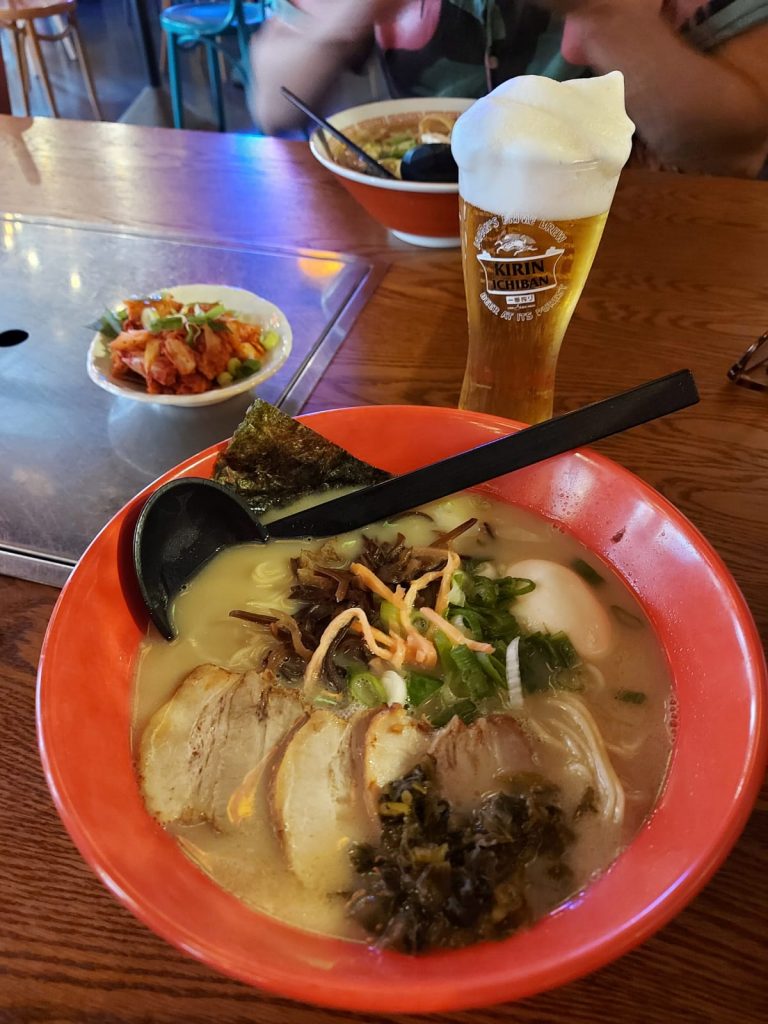 There's also two other options, including a lovely looking – and healthy – Vegan Miso Ramen for those who want to give the meat a miss. Sides are inexpensive – and also under £10 – but I feel full after my main.
There's posters on the wall with a bit of history and I study as I slurp. Ramen – the nourishing noodle soup dishes – started in China in the 1800s. The hearty broth jumped across the sea to Japan with Chinese immigrants in the 19th Century and is now popular the world over.
Drinks won't break the bank either. To wash it down, I plump for the frozen beer. It's an icy draft with ice cream energy. With money tight and autumn on the horizon cheap, cheerful and filling has never been this good. As they say in Tokyo, Kanpai!
Special offer £9.99 ramen, Mondays and Tuesdays
Available at both Yokocho, Heddon St and Panton St
For more info and opening times click here 
Choose between one of these three ramen:
🍜 Hakata Tonkotsu: This tonkotsu comes with a 12hrs tonkotsu based pork broth, hosomen thin & straight noodles. All topped with kikurage mushrooms, bbq pork belly, spring onion, takana mustard, nitamago egg, nori seaweed and red ginger
🍥 Tokyo Shoyu: This lighter ramen is a soy based chicken & pork broth with medium thickness noodles. All topped with menma bamboo shoots, bbq pork belly, spring onion, naruto fish cake, nitamago egg and nori seaweed
🌱 Vegan Miso: A newer ramen created in 2020, this plant based ramen comes with 1hr boiled miso vegetable broth and hosomen thin noodles topped with ganmo tofu, menma bamboo shoots, kikurage mushrooms, tenderstem broccoli & nori seaweed
In partnership with the Japan Centre