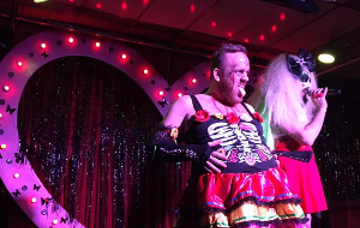 With no less than five adjectives in the title, the soon to open Gay Sh!t Comedy Cabaret Night promises to be an all-singing-all-dancing jackhammer to the senses.
A new show put together by self-proclaimed 'Resident Homosexual', Aussie Wayne Carter. Wayne is planning to bring together a scream team of hand-picked comedy, burlesque, magic, dance and drag acts for his opening night in the Phoenix Artist Club.
""I wanted a place where acts could experiment and play in a safe space while having fun at the same time," says the Adelaide native.
"In Australia it's not uncommon to see a mixed bill showcasing a variety of talents. In London I found a lot of nights dedicated to just one form of art; be it comedy, drag or cabaret.
"The hope of Gay Sh!t is to bring these back together and show people that there is beauty and craziness in all forms of art."
Since Wayne moved to London he's been busy gigging across the open mic circuit  as a cabaret burlesque comedian.
So who should come down to Gay Sh!t ? "All are welcome," he insists. "There will always be a leaning towards LGBT acts, but also those acts those have shown themselves to be allies or simply someone that has a skill in their chosen artistic expression."
Wayne's tip for the night? "Come with an open mind and be ready to make some noise."
Gay Sh!t – Comedy Cabaret Night is at The Phoenix Artist Club on Wednesday, 30th Nov 2016 at 8:30PM
Tickets £5: https://www.ticketsource.co.uk/event/EIJEJF#