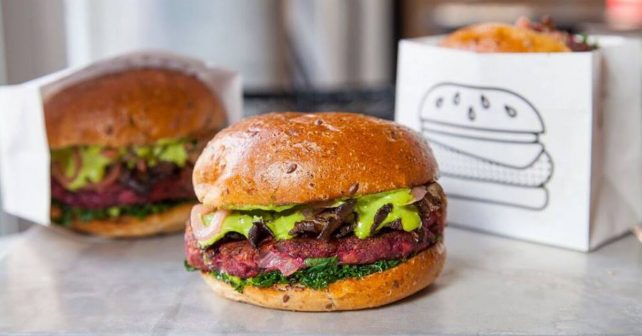 Listen up vegans, here's two fabulous freebies. Both are to mark the opening of CHLOE US, the plant-based eaterie's new flagship store in central London.
The first involves a vegan edible foodboard and 500 FREE guac burgers.Just select a piece of fresh fruit from the giant billboard outside the building and swap it for one of CHLOE.'s signature veggie Burgers. All fruit will then be donated to Fareshare charity.
Can't make that giveaway? No worries. The first 500 people that arrive at the store the following Tuesday will be treated to Bacon, Egg + Cheeze breakfast sandwiches. All vegan and all FREE!
Fri 14th June, from midday: FREE guac burgers at CHLOE's Edible Vegan Foodboard exchange
Tues 18th June, from 7.30am: 500 FREE Bacon, Egg + Cheeze breakfast sandwiches
CHLOE, 4-5 Langham Pl, Marylebone, W1B 3DG