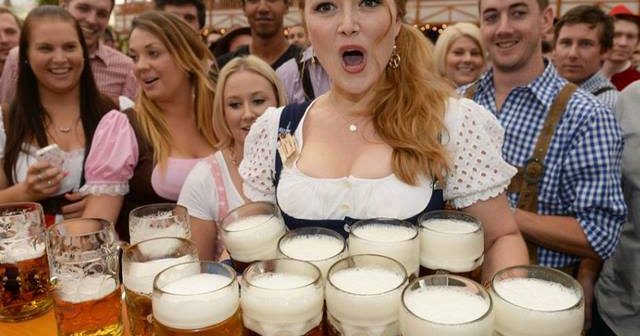 A month of oompah music, traditional dress, thick grilled sausages – and lots and lots and lots of beers! – Oktoberfest is now a mainstay in London. So dust down that dirndl and check out these top spots across the capital. Prost!
=====
We start with maybe the grand daddy of them all; London Oktoberfest.
The action happens in mammoth party tents that will be going up at three venues over the season; Millwall Park, Olympia London and City Central. Watch out for the usual heady mix of giant beers, tasty pretzels, Bavarian bands and bratwursts plus huge steins to wash it all down with. Oh and keep an eye out for their cheeky Halloween party weekend.
Best of all entry is FREE on all Thursdays and for families on Sundays.
Oktoberfest London; Thurs 3rd – Sun 6th Oct & Fri 10th – Sun 12th Oct at Millwall Park (Canary Wharf), E14 3AY
Thurs 24th – Sun 26th Oct at Olympia London, SW5 9TA
Fri 15th – Sat 16th Nov at City Central at the HAC, EC1Y 4TW
To buy tickets and for all other info click here
If you're south swing by SW2 for Bavarian Stein pong, sausages by Herman Ze German, live music from Brass Funkeys plus a Berlin-themed club room at Brixton Oktoberfest.
The south London knees-up has been going since 2015. Our favourite bit? If you're still sober (ish) entertain the masses at their Wurst Karaoke Ever show!
Now – Sat 18th Oct: Brixton Oktoberfest
Electric Brixton, Town Hall Parade, SW2 1RJ,
Entry from £10. To buy tickets and for all other info click here
Welcome to 17 nights of beers (plus wine, gin and cocktails), street food, live tunes and fab entertainment at Doktoberfest in east London.
There'll be an LGBT+ themed pink Oktoberfest show (Oct 12th) and Halloween parties., alongside the usual Bavarian games and fun look out for circus performers, gymnasts and fire breathers.
Organisers are promising their Docklands warehouse has been converted into a mini Munich. Only one way to find out!
Doktoberfest: Dock X, Unit 1, Canada Water Retail Park, Surrey Quays Road, SE16 2XU
Festival dates: Oct 10th, 11th, 17th, 18th, 19th, 24th, 25th, 31st
Nov 1st, 2nd, 7th, 8th, 9th, 14th, 15th, 16th
Admission from £8 and it's a cashless bar. To book and for all other info click here
There's weeks of fun to be had at Bierschenke's two venues this autumn. And best of all entry to each is FREE!
There'll be traditional food, loads of different German beers, live oompah bands and drinking games. There's a Spooktoberfest too if you're brave enough…
Now – Sat, 2nd Nov (Wed to Sat each week) Oktoberfest at Bierschenke
4 London Wall Buildings, Blomfield Street, EC2M 5NT + The Arches. 9 Crutched Friars, EC3N 2AU
FREE entry. For more info click here
An honourable mention goes to the FREE to enter Vegan Oktoberfest party in Greenwich