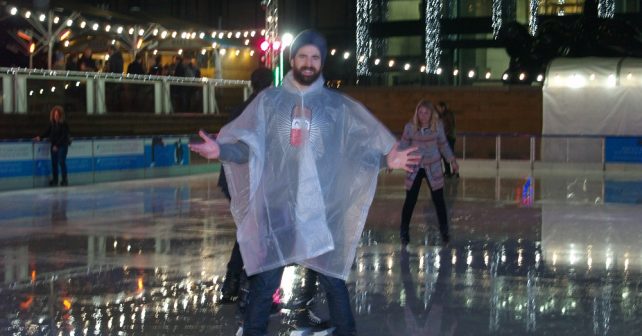 Shoehorned between the gleaming skyscrapers of Bishopsgate and the achingly hip coffee shops of Spitalfields is London's longest running outdoor ice-rink.
Broadskate in Broadgate's Exchange Square is a clever use of space in that cavernous expanse of concrete behind Liverpool Street Station. Under drizzly winter skies, I swung by for my first skate in 15 years.
It's a strong start. Friendly staff swap my shoes for skates and hand out plastic ponchos to protect against the elements and after wriggling and cursing my way in to my size 12s I pigeon-step onto the ice.
I had hoped it would be like riding a bicycle; never to be forgotten. Alas, I spent much of the first part of my session as if back in my '90s youth; grimacing and gripping the barriers that snake round the rink, praying to stay upright. Not cool. At all.
Thankfully, help came in the form of one of the graceful, gliding instructors who saw me struggle and imparted his tips. "Bend your legs," he casually commanded. "Have your feet facing out like a penguin. And never, ever lean back!" And it worked!
Amazingly. I got the hang of the balancing basics in a few minutes and soon worked up to an uninterrupted barrier-to-barrier shimmy across the frozen rink.
Not quite Robin Cousins but – unlike my maladroit teen years – I avoided falling in a heap on my arse. Result.
If you're as rusty as I am, not to worry. When you're done you can watch the Torvill and Dean wannabes with a mulled wine and tasty burger from the safety of the adjoining rinkside bar and streetfood chalets. Bliss.
SKINT OFFER: When was the last time you went ice-skating? Try it!
Offer is available all days, inclu weekends, throughout January until February 2nd.
We have Skint discounted tix for both adults and children.
Enter promo code, SKINT10 for £10 adult tix
Enter promo code SKINT760 for £7.60 children's tix.
Tix here: https://www.cityicerinktickets.co.uk/