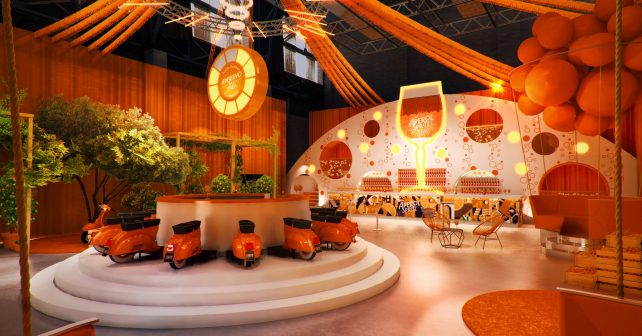 Listen up, London: who fancies taking a row on an orange canal or reclining in a Classic Italian car hot tub? Of course you do, we all do! Enter The Aperol Big Spritz Social.
The week long fun in Shoreditch is a celebration of Aperol Spritz and the Italian al fresco life. Visitors can take a ride on the UK's first ever revolving carousel bar or hang out in the giant Aperol Spritz glass-shaped ball.
All advanced tickets have sold out – of course they have – but fret not, boozehounds. There's still tickets reserved at each session for walk ins. So get there early doors and bring a cozzie if you want to take a dip!
Thurs 23rd – Sun 26th May & Wed 29th May – Sat 1st June (opening times vary): The Aperol Spritz Big Birthday Social
Shoreditch Electric Light Station, Coronet Street, N1 6HD
Tickets £10, inc 2 Aperol Spritzes. Further drinks £6 each. 
For more info click here