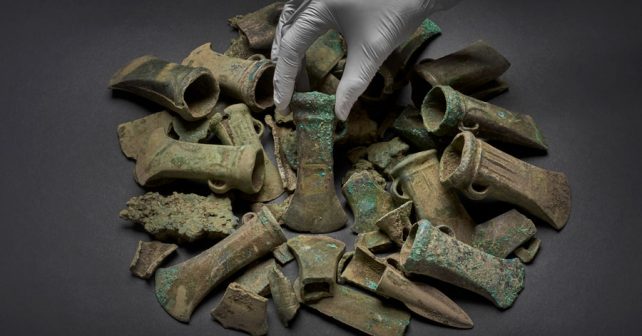 Here's your chance to see hundreds of recently unearthed – and rather amazing – bronze treasure at this fascinating exhibition.
Havering Hoard: A Bronze Age Mystery at the Museum of London is the largest Bronze Age collection ever discovered in UK. The cache – found in 2018 at a dig in Rainham (the glamour!)  – includes weaponry such as axe heads, spears, daggers and knives and jewellery, from bracelets to amulets.
The 453 objects date on show back more than a millennium. While most was forged in Britain, some of the collection is thought to come from continental Europe. Experts are still trying to piece together what some of the items were for. Were they thrown out as civilisation moved on from using bronze? Or do some of the pieces even part of a religious offering?
Historic London brought to life. And we can't wait to see it for ourselves!
Fri 3rd April – Sun 1st Nov, 2020: Havering Hoard: A Bronze Age Mystery
Museum of London Docklands, No.1 Warehouse, West India Quay, E14 4AL
FREE – to book tickets click here