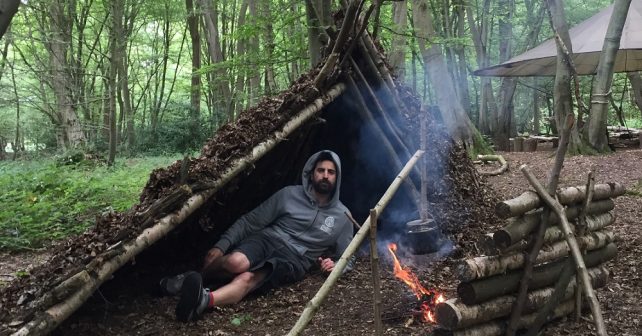 How well would you survive if society collapsed? Could you go full Bear Grylls and catch your own food, keep warm, find shelter and stay alive if everything we take for granted ceased?
We've not needed to seriously ask ourselves this in decades. But now, with the emergence of rogue leaders and populist governments – to say nothing of Trump's lunatic stand off with North Korea  – increasing numbers of people are becoming preppers. These are the people who've been prepping for the end of civilisation for decades.
To discover how to deal with a possible Mad Max scenario I head to Polaris Bushcraft, just north of London in Hertfordshire.
I'm met by Graham, a strapping, affable instructor formerly of The Met who's head honcho here – less Kurt Russell, Escape from New York, more Jim Carver, The Bill – at the 45-acre private camp.
Near the entrance sits a huge tarp covering an open fire. The space is flanked by several hand-made mini shelters made up of cleverly arranged logs and leaves where overnighters can stay dry and warm while snoozing under the stars. There's a water source a short trek away and plenty of available kindling nearby.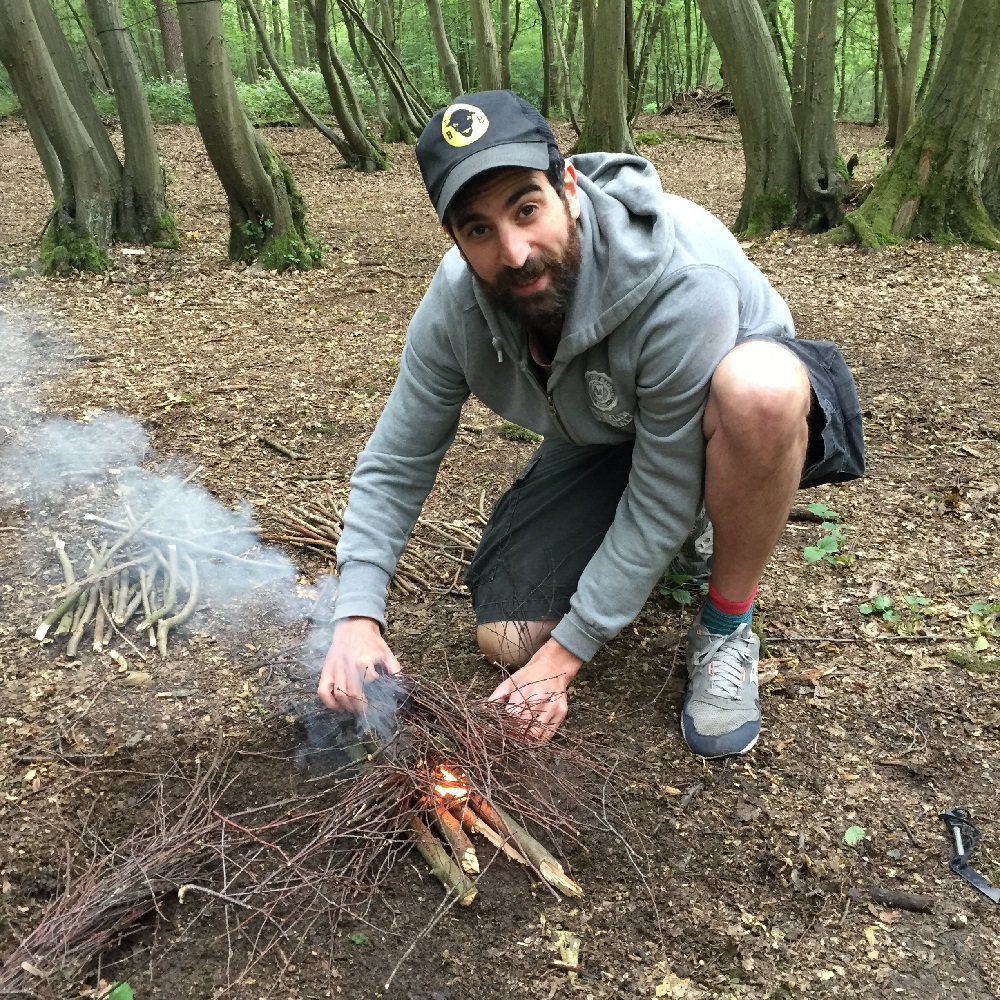 David puts his new skills to good use at Polaris Bushcraft
Graham starts me off with a simple ask. "In a situation where society might break down could you make your own fire to keep warm?"  "Perhaps," I counter. (I can barely pay my heating bill, let alone forage for firewood.)
He then takes me hunting for the right sort of flammable materials. Branches higher up away from the sodden earth burn better, but damp Birch bark will also catch and different tree species char better than others.
He also talks me through what food is safe to eat, which mushrooms will sustain you and which will cause you to see things you wish you hadn't! Along with which moss is useful for collecting vital water when you're desperately dehydrated.
Back at camp, Graham tells me the different ways of lighting a fire. "You have to create a thermal column where oxygen can get in to the flames." We strike metallic-looking ferrocerium flints (outdoor shop bought but more authentic than matches) to get the blaze going. After a short struggle my kindling catches and the wooden heap burns to a crisp.
I ask Graham if the worse came to pass how he thinks we'd cope:  "If society collapsed we'd need people with different skills to come together and not destroy each other. That's our best route to survival."
Let's just hope we never have to consider it.
---
Polaris Bushcraft is giving away a two day, two night survival weekend worth £200 for a winner and a friend. Just enter below. 
THE LOWDOWN
🌍 The Polaris Bushcraft And Survival Weekend is entirely self-catering but knives, tarps, hammocks, tents and sleeping bags can be provided. Winners must bring suitable clothing.
🌍 The voucher is for a prize for a winner and a friend for the same weekend. The prize must be used in the next 12 months.
🌍 Travel to Polaris in Hertfordshire is not covered.
🌍 Closing date is August 30th and late entries will not be accepted. Our decision is final.
🌍 Entering this competition will automatically sign you up to the Skint London newsletter.
🌍 For more information about Polaris Bushcraft click here