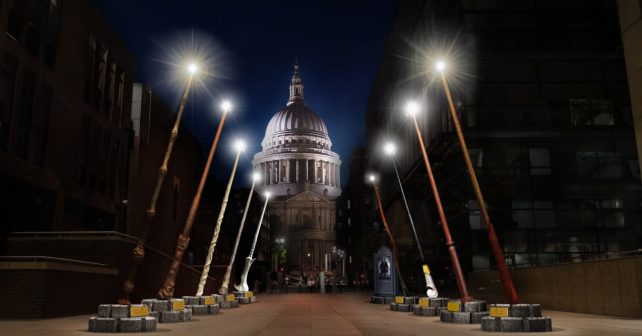 Harry Potter fans take note; there's a new light installation made up of nine giant magic wands coming to London. And there's no need for a Gringots withdrawal – it's FREE to see.
The dazzling Fantastic Beasts: Wizarding World Supports London – in the shadow of St Paul's – features a cluster of 15ft tall glowing batons. The temporary lights will illuminate the walk way between the Millennium Bridge and the city's giant cathedral.
Best yet, it's for a good cause. The installation is going up to highlight J.K. Rowling's children's charity Lumos. (It's named after a light giving spell in the Potter books.)
The organisation aims to help young people in orphanages and institutions across the globe. The latest Fantastic Beasts film, The Crimes Of Grindelwald – which was shot in part around St Paul's is also out this autumn. So any publicity from this can't hurt!
Plus – look out for weekly Wizarding Wednesdays too which will include wand training for trainee and live performances from a military marching band. Keep an eye on Lumos's website for more info.
Josh Berger, President of Harry Potter Global Franchise Development says: "We are thrilled to partner with Lumos on this landmark installation, which is sure to delight fans and the tens of thousands of commuters and tourists passing through Peter's Hill each day."
Sat Oct 18th – Mon 12th Nov, nightly from 6.45pm with a short light display to music every 15 minutes : Fantastic Beasts: Wizarding World Supports London
Peter's Hill, EC4V
Fantastic Beasts: The Crimes Of Grindelwald is out on Fri 16th Nov
For more info click here