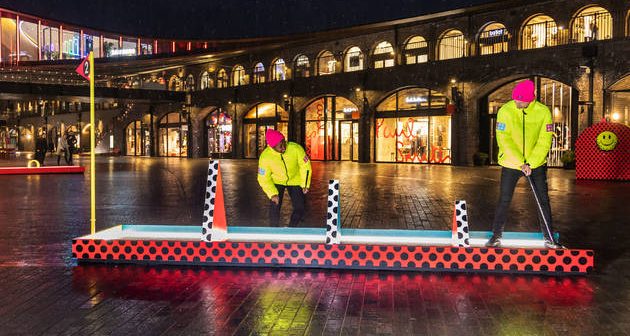 If you'd said to us 20 years ago, King's Cross would now be a go-to destination we wouldn't have believed you, but what a transformation. To add to the fun there's now a new pop up crazy golf course.
Visitors to the whacky nine-holer at Coal Drops Yard will have to navigate multi-coloured obstacles and chairs to try and bag a tricky hole-in-one (and bragging rights with your fellow players).
The outdoor links is up and running and staying put until late March at least. Best of all it's a reasonable Skint friendly price and totally FREE for kids when they go with an adult. Just don't make them act as a caddie all afternoon!
Now – Sun 29th March, Mon – Sat; 12pm – 8pm / Sun; 12pm – 6pm: Crazy Golf at Coal Drops Yard
Lower Stable Street, N1C 4LW
Adults £5, Kids under 12 accompanied by adults go FREE.
For more info and to book click here