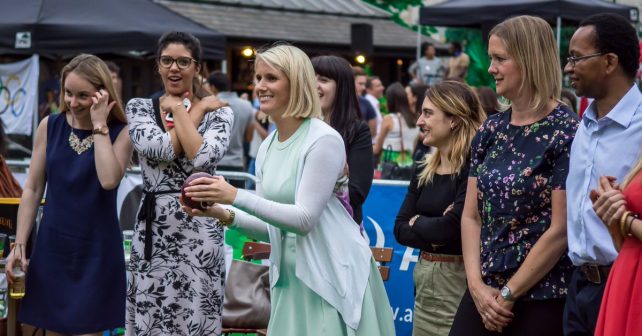 Watch out for young Londoners taking all the pensioners' fun this week; Festibowl is back in Finsbury Square for its thrid year.
Forget 80-somethings in comfortable shoes rolling in near silence (for one thing there'll be be DJs spinning tunes) – this version is a casual, quicker version of lawn bowls played with no shoes at all!
If all the action makes for hungry work, there's meaty treats at the Chalana Steak pop-up stand. And, if you've given up on your game just grab a cocktail or a boozy ice lolly and watch the others play.
PS. If the sky opens, it's weather proof so if it rains, it rains but you'll stay dry!
Wed June 28th- Fri June 30th: Festibowl 2017
Finsbury Square, EC1
For more info and £5 tickets click here