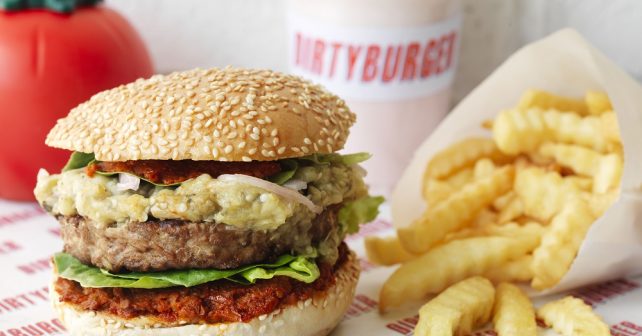 There's nothing that helps us crack a smile more than a Monday freebie. Enter Dirty Burger who will be dishing up dozens of FREE vegan burgers next week.
It's all to celebrate World Meat Free Day when Linda McCartney's and the burger chain are partnering up to mark the moment by launching the Dirty Vegan.
All you have to do to bag a meat-free beauty is be one one the first 50 people through the doors at the chains's Shoreditch or Vauxhall sites and BOOM, you've earned yourself a Linda McCartney's 1/4lb patty, topped with burnt aubergine and pepper in a vegan brioche bun.
Both stores are opening up at midday so be on time if you can because when they're gone, they're gone!
Mon 11th June, from 12pm: 50 FREE Dirty Vegans at Dirty Burger Shoreditch and Dirty Burger Vauxhall
Dirty Burger Shoreditch, 13 Bethnal Green Road, E1 6LA
Dirty Burger Vauxhall, 54, Arches, 6 S Lambeth Road, SW8 1SS
For more info click here
If you miss the freebies, the Dirty Vegan burger is £7 and will be available at the following Dirty Burger sites from 11th – 17th June: Tooting, Balham, Wimbledon, Crouch End, St John's Wood, Whitechapel, Shoreditch and Vauxhall.