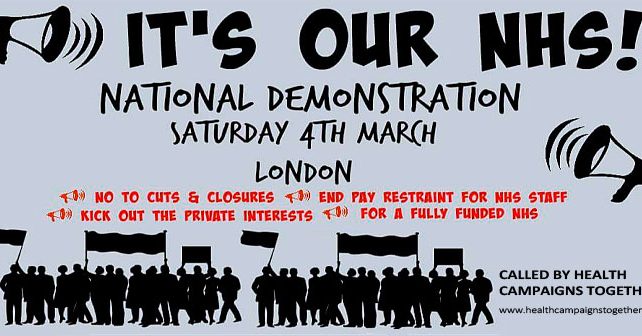 Thousands of protestors are expected to take to the streets on Saturday in defence of the NHS.
Organised by anti-austerity group, the People's Assembly, the #OurNHS demo is predicted to draw people from across Britain anxious that the NHS is in crisis and faces an uncertain future.
Comic Jo Brand, believes that it "is disappearing before our very eyes. It is an easy organisation to dismantle, as the vast majority of us do not use it all the time and don't really know how it works."
"NHS stands for Not Here Soon and if we are not vigilant, one of the greatest organisations in the world will not exist any more. And letting it go will be our fault."
Other celebs expected to attend include Broadchurch actress,Julie Hesmondhaigh and the band, Rudimental. Hesmondhaigh says, "The NHS is the thing I'm proudest of in this country. Save it before it's too late."
Saturday 4th March. Assemble 12pm Tavistock Square, outside the Virgin Care offices before the march to Parliament Square.