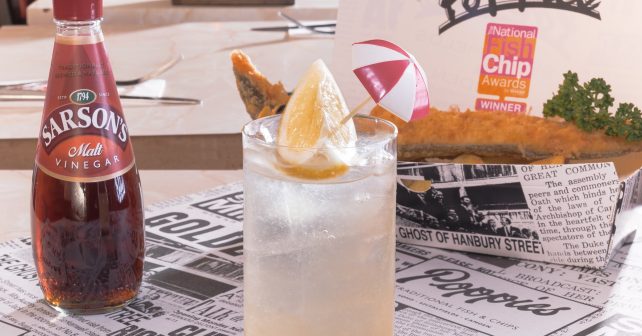 Here's one way of washing down your fish and chips this June. Two restaurants are giving away dozens of FREE vinegar-based cocktails.
Nope, there's nothing fishy going on here. Staff at Poppies will be handing out 100 Vin and Tonics to anyone who fancies a tipple. Sarson's Vinegar has partnered with Poppies, to create a 'quirky Vin & Tonic' cocktail with a sharp tangy taste. (This may or may not be a good idea!)
There'll be 50 freebies at their Spitalfields spot and the same again in Soho. You don't even need to buy any dinner to qualify. It's all to celebrate National Fish and Chip Day on Friday 7th June. We're game!
Fri 7th June, from 6pm: 100 FREE Vin and Tonic Cocktails
50 at Poppies Spitalfields: 6-8 Hanbury Street, E1 6QR
50 at Poppies Soho: 55-59 Old Compton Street, W1D 6HW