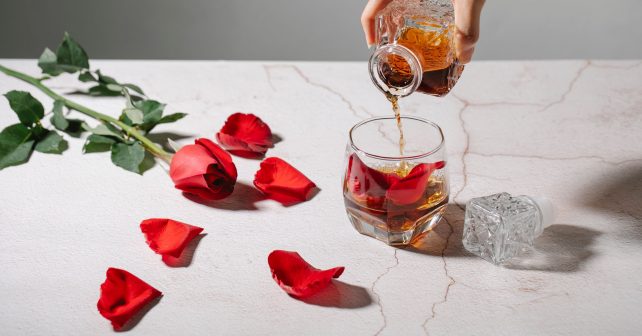 Monarchist or republican there's a good chance you'll be drinking over the Coronation Bank Holidays. If you're planning on wheeling out the cocktails (any excuse!) there's one ingredient you shouldn't overlook: vermouth.
We spoke to drinks experts at The Mixer to get the lowdown on all things vermouth and why it should be your go-to ingredient if you're skint:
How expensive is vermouth?
Excellent question! Vermouth is a great inexpensive cocktail option, with a 750 ml bottle costing anything from six quid ( a supermarket own brand) to a tenner. From a standard bottle of vermouth, you should expect to get approximately 10-12 Martinis, 8-10 Manhattan cocktails and 8-10 Negroni cocktails.
What connection has vermouth got to The Royal Family?
Historically, the British royal family has been very fond of vermouth  which can be drunk as an aperitif on the rocks – the cheapest way. Or it can be used as the backbone for many delicious cocktails. It's no secret that King Charles's favourite pre-dinner drink is the 50/50 martini (half gin and half dry vermouth) In fact, when he's abroad, the King is said to take his own martini glass with him!
What exactly is vermouth?
It's not a spirit in the traditional sense, but an aromatised and fortified wine that's flavoured with a variety of herbs and spices with additional alcohol added to it to increase its strength. Until recently, millennials and Gen Z have thought of vermouth as only something their grandparents would drink. However, as 'grandpa cocktails' come back into fashion, it's ready to shake off its dusty reputation.
How alcoholic is it?
Vermouth typically ranges in alcohol content from 16-18%, which is lower than most spirits. It's made from either white or red wine, and has been produced in France and Italy since the 1700s.
How many types of vermouth are there?
There's two: sweet and dry vermouth with many brands making both, including Cinzano, Martini & Rossi and Noilly Prat. Older readers who remember the 1970s or '80s will recall  back then  it was mainly known by a brand name, rather than vermouth. (check out a much younger Joan Collins with Leonard Rossiter in the '80s CInzano ad below).
How do I know which one to choose?
Dry vermouth is typically clear or pale yellow and boasts a light, airy taste with well-integrated notes of florals, fruits, and herbs. It's a popular choice for classic cocktails like the Vodka Martini and Gin Martini since it complements the spirit's flavours.
Sweet vermouth has a deep amber colour and gives heartier notes of spices like vanilla, caramel, and darker fruits to classic cocktails like the Negroni and Manhattan.
Is vermouth calorific?
No. Like most wines, vermouth is not particularly high in calories compared to other alcoholic beverages, although the exact number of calories will vary depending on the spirits and mixers used in the cocktail Generally, dry vermouth is less calorific than sweet vermouth because it has a lower sugar content.
Does the James Bond 'shaken not stirred' martini include vermouth?
Yes, it does. The James Bond "shaken not stirred" Vesper Martini is  made with three measures of gin, one measure of vodka, and half a measure of dry vermouth.
Here are some of the cheapest and most delicious cocktails you can make with vermouth:
King Charles' favourite is on the lower side of the boozy scale and totally different to a classic Martini.
Ingredients per person
5 parts Bulldog Gin
5 parts Cinzano Extra Dry Vermouth
A dash of orange bitters to garnish
A twist of lemon (optional)
Add all your ingredients to a mixing glass or shaker and fill with ice
Stir until well-chilled
Strain into a chilled cocktail glass
Garnish with a lemon twist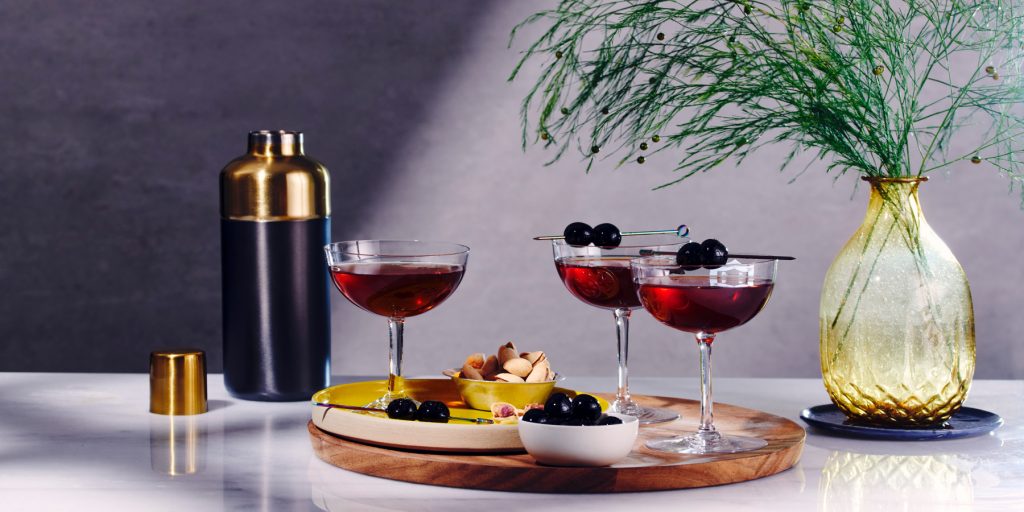 Manhattan
This classic cocktail is easy to master as it's only made with three ingredients.
Ingredients per person
2 parts Wild Turkey Rye Whiskey
1 part Cinzano Rosso Vermouth
2 dashes of aromatic bitters
Garnish with a maraschino cherry
Chill your coupe or cocktail glass with ice
Add the whiskey, vermouth and bitters to a jug
Tip the ice out of your glass
Strain the cocktail into your chilled glass and garnish with a cherry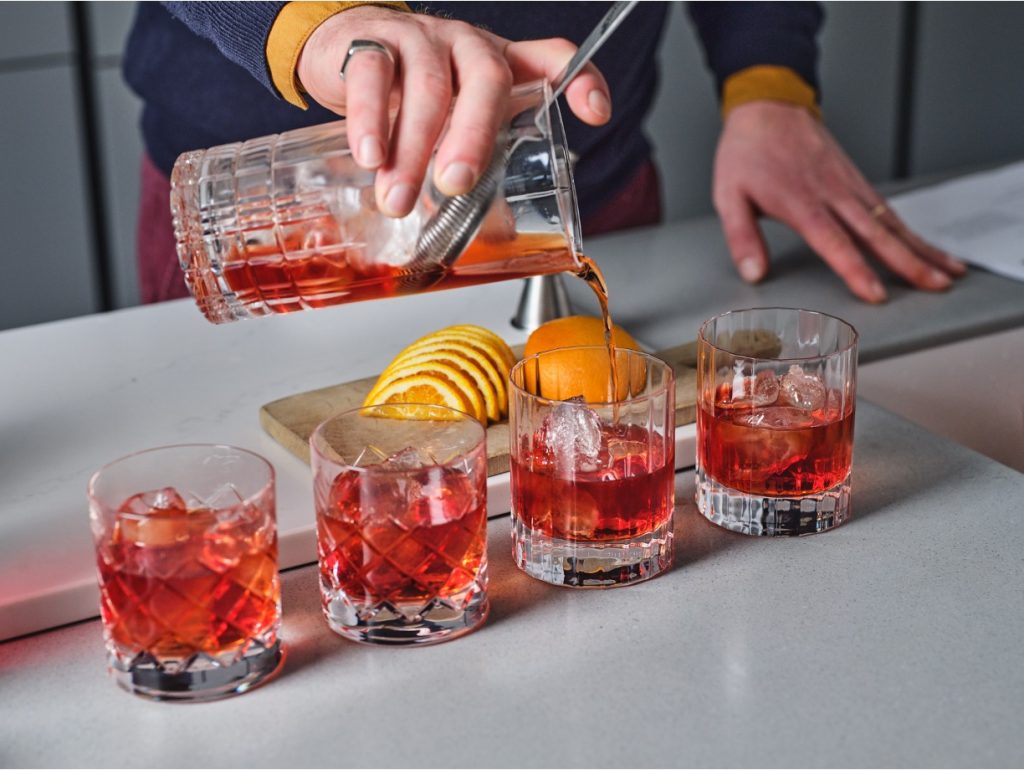 Negroni
This Italian classic is an acquired taste – sophisticated, complex and very grown up. It's typically served on the rocks with an orange peel garnish.
Ingredients per person
1 part Campari
1 parts Bulldog Gin
1 part Cinzano Vermouth Rosso
Garnish with orange peel
Pour the Campari, gin and sweet vermouth into a pre-chilled glass
Stir until icy cold
Twist an orange peel over the drink to release its oils, and drop it in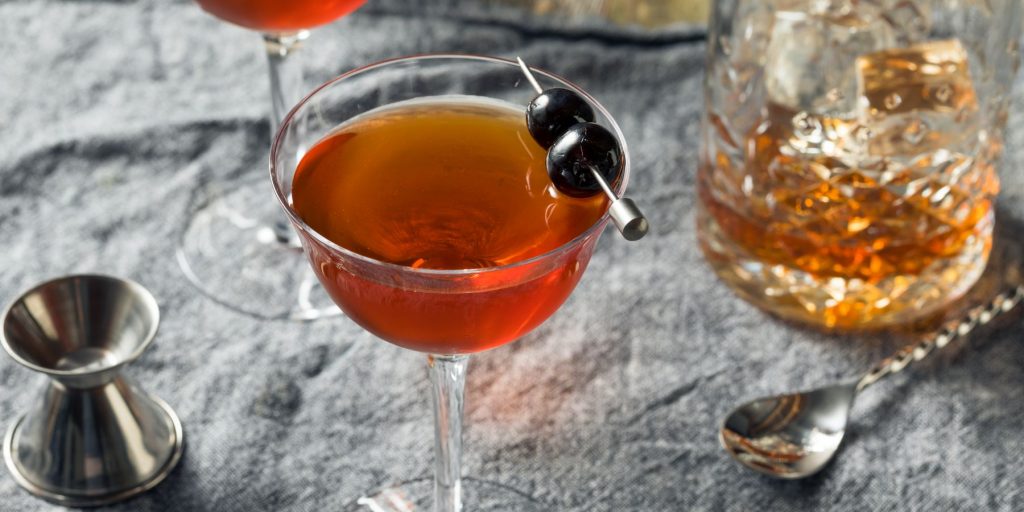 Rob Roy
Similar to a Manhattan, this cocktail is straightforward to make. If your budget doesn't allow for a single malt whiskey, you can make an equally delicious Rob Roy with a blended whiskey.
Ingredients per person
2 parts Single Malt Scotch Whisky
1 parts Cinzano Rosso
3 Drops of bitters
Luxardo cherries to garnish
Add all ingredients to a mixing glass filled with ice
Stir until chilled
Strain into a coupe
Garnish with 2 Luxardo cherries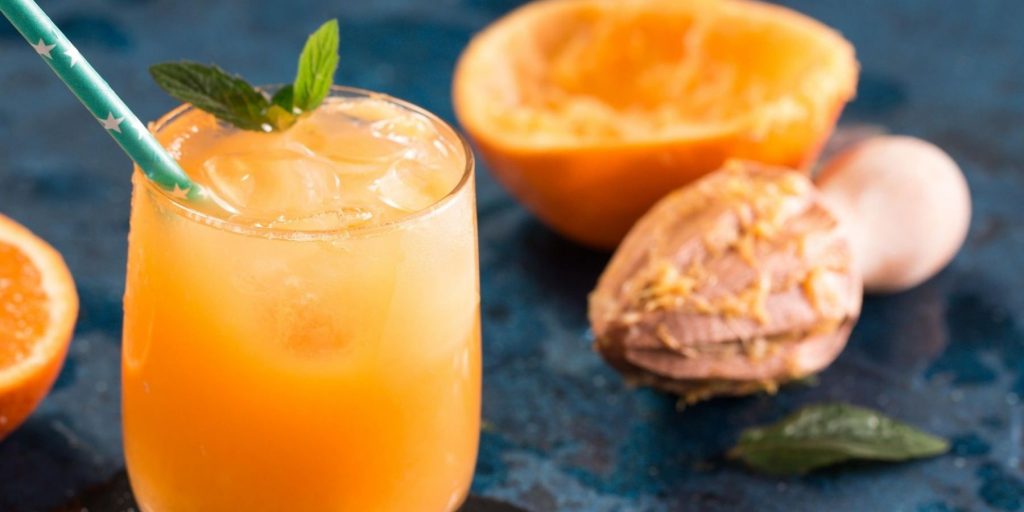 Orange Blossom
A dainty mix of orange juice and gin, sweetened with vermouth, an Orange Blossom is the perfect choice to serve with a Coronation brunch.
Ingredients per person
1 parts gin
1 parts sweet vermouth
1 parts orange juice, freshly squeezed
Garnish with an orange wedge or peel (optional)
Fill a shaker with a handful of ice
Pour over the gin, sweet vermouth and orange juice and shake until it's properly chilled
Strain into a chilled cocktail or highball glass
Garnish with a wedge of orange and enjoy
For more drinkspiration please visit https://www.themixer.com/en-uk/