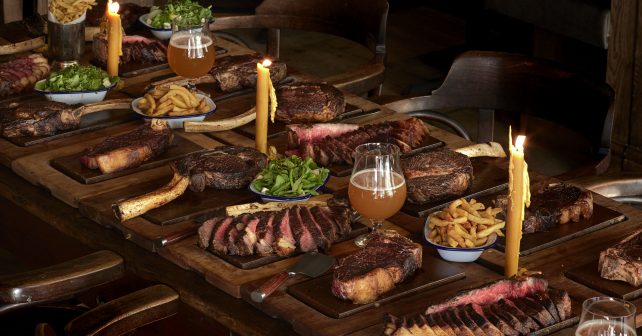 If there's one thing experience has taught us is that if anything's going to cause a stampede it's a restaurant handing out FREE steak. When it's Flat Iron queues have been known to go round the block.
To celebrate their new gaff in Kings Cross – London site number six – the popular venue is giving away the cuts from a 30-day Dexter steer for the evening. (Dexter: type of cattle; a steer: castrated male – you're welcome!)
Apparently, it's going to be served to diners in a variety of cuts from sirloin to fillet and, although you'll still have to fork out for chips and booze, we'd say that's definitely a price worth paying.
It's probably going to be mobbed, but we've just heard they're going to be giving out FREE popcorn and cocktails to people in the queue, so either arrive early or head up with a newspaper and some patience!
Thurs 4th Oct, from 6pm: Flat Iron FREE steak
Must pay for sides and drinks/first come, first served
47 – 51 Caledonian Rd, Kings Cross, N1 9BU