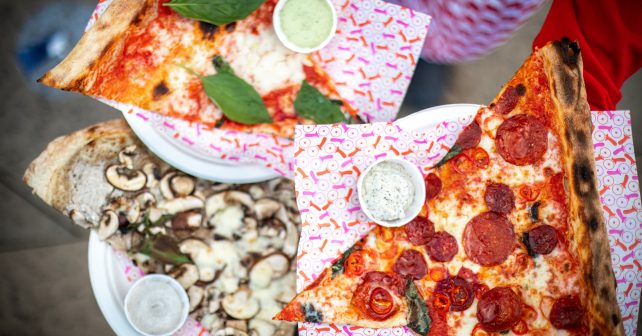 North London, it's your lucky day. Get ready to grab yourself a slice of the action at the new Pizza Pilgrims, The brothers behind the expanding pizza empire – co-founders, Thom and James Elliot – are now setting up a permanent home in Finsbury Park called Slice.
Inspired by New York- style Neopolitan pizza slice joints they're promising to bring a dive bar feel to their new N4 set up.  Included on the menu will be their revamped Hawaii Not – honey glazed pineapple, nduja and jalapenos. Yes, pineapple on pizza: argue amongst yourselves! There'll also be halal and gluten free options available.
To mark the opening they're running a gigantic pizza one day giveaway. They'll be dishing up 1,000 FREE pizza slices at three separate times. If you're in the area that's lunch or tea sorted!
Mon 23rd Aug, 12pm, 3pm, 6pm: 1,000 FREE pizza slices
Slice by Pizza Pilgrims, 266 Seven Sisters Rd, Finsbury Park, N4 2HY
Sign up for your FREEBIE here or just pitch up as it will be first come, first serve