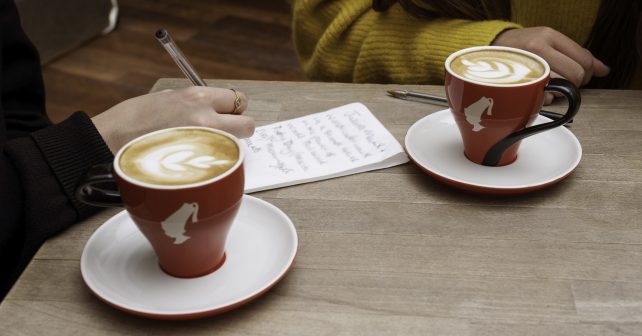 If you fancy a FREE hot drink, then get your thinking caps on and writing quills out and pay for a coffee with just a poem!
The giveaway is to mark World Poetry Day and more than a dozen venues across the capital have signed up to give away cuppas.
The idea is the brainchild of Brixton poet and story teller Telixia Inico who's partnered up with anti-illiteracy charity Worldreader and Viennese coffee brand Julius Meinl.
Inico says: "Reading and poetry has helped me to express myself and overcome barriers in my life so I hopeI can empower others to uncover the power of words and do the same."
Rest assured, you don't need to be Keats, Shelley or Betjeman to earn your cup of caffeine. Just speak from the heart and you'll earn your reward! "I'm a poet and I know it!"
Sat 21st March, FREE coffee for a poem
List and times at each participating café below
The One Café, Broadway Market, 11.30am-10.30pm
Dorset Café, Melcombe Sreet, 8am-3.30pm
East London, London Borough of Tower Hamlets, 7am-11pm
Middleton Deli, Loampit Hill, 9am-5pm
Bush Theatre, Uxbridge Road, 10am-11pm
Pitha Ghor, Whitechapel Road, 7am-9pm
Esquires, West12 Shopping Centre, 8am-8pm
Portobello Juice Bar, Scrutton Street, 8am-10.45pm
Le Cordon Bleu, Fleet Street, 8am-7pm
The Yard Alexandra Palace, Station Road, 8am-5pm
The Yard Palmers Green, Aldermans Hill, 8am-11pm
Monalicious, Hoxton Street, 9am-5pm
Ronnie Scott Jazz Club, Frith Street, 6pm-3am
The Beaufort House, King's Road, 9am-3.30am