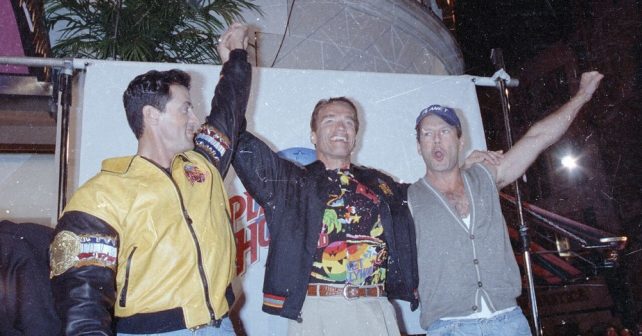 Dig out those baggy MC Hammer pants and don that sparkly Global Hypercolor T-shirt; Planet Hollywood is going back in time and giving away food at their original 1993 prices!
That was the year Take That were riding high with five Top 10 singles, Whitney was belting out I Have Nothing and Meat Loaf would do anything for love but he wouldn't do that.
It's all to celebrate 25 years since the cinema-themed eaterie opened. For one day only, the restaurant will be offering seven of the top selling dishes from their initial menu, along with current 2018 favourites also at back in the day prices.
Guests can tuck in to the initial menu's favourites of Blue and Gold Nachos for a mere £3.95, BBQ Bacon Cheeseburger for £7.95 or maybe a full rack of tender baby back ribs for £9.95.
In addition to the knock down nosh, visitors can check out the original photos and video footage of the actual 1993 opening when Sylvester Stallone, Bruce Willis, Demi Moore, Arnold Schwarzenegger jetted in for the grand unveiling.
You can even terminate your feast with Arnie's Grandmother's Apple Strudel for £4.50. Not too shabby for a Haymarket hotspot.
Thurs 17th May, 11am – midnight: Planet Hollywood's 25th birthday menu (1993 prices apply to every dish on the food menu but NOT drinks)
Planet Hollywood, 57-60 Haymarket, SW1Y 4QX
Bookings are highly recommended. Call 020 7287 1000 and for info click here