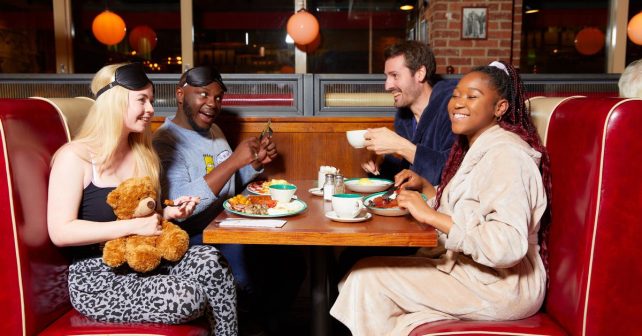 This is an offer you won't want to miss. Italian-American restaurant chain, Frankie & Benny's is giving out complimentary breakfasts across the country.
To mark the arrival of their new breakfast menu, they're giving out delicious FREEBIES for six days. Up to the value of a tenner. And, all you've got to do to claim yours is to pitch up in your pyjamas or a dressing gown.
We're talking Mixed Berry Pancakes (£6.20) Beef Brisket Hash (£6.80) or just a good old fashioned fry-up. You don't need a voucher or a code, but you must post a pic on your socials.
Final word: obviously, it's a family restaurant so have fun, but make sure your outfit's not giving the kids an unwelcome eyeful!
Tues 12th Oct – Sun 17th, until midday: FREE breakfasts, eat-in
Frankie & Benny's, nationwide
Click here for your nearest branch and the breakfast menu
Not available in airports or the Paddington Praed St branch