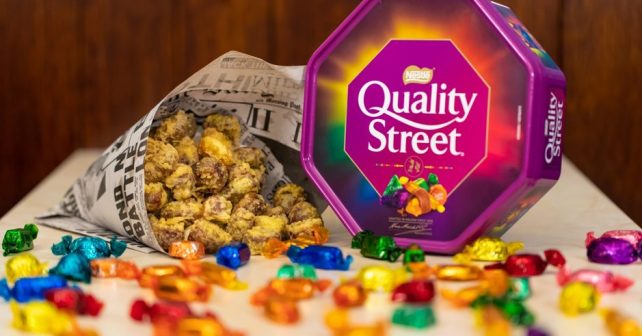 Christmas is coming early this year, London. We've seen a trend to deep fry everything in the last few years – battered sprouts, anyone? –  and this yuletide it's the turn of the nation's Christmas Day chocolates as Quality Street gets the same treatment!
The sweet-toothed amongst you will love this, others will already feel decidedly queasy.
For the former – including this male writer – the place to go is Poppies fish and chippie in Soho which will be battering everyone's favourite festive box chocolates throughout December Just pop in for oodles of golden-brown ooziness.
Why are they doing it? Who knows. Who cares. It's £2.50 for a portion of five. Get. In. My. Belly.
Sun Dec 1st – Xmas Day: Deep fried Quality Street 
Poppie's Fish & Chips, Soho, 55 – 59 Old Compton Street, W1D 6HW
£2.50 for a portion of five – For more info click here