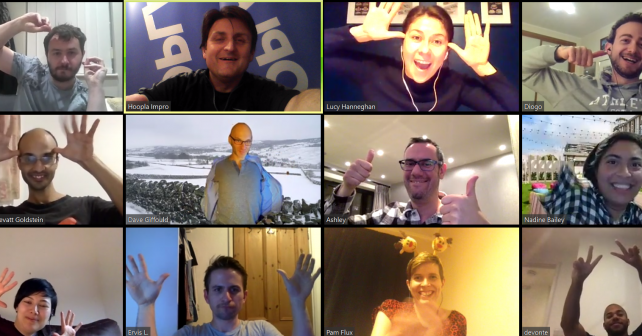 This will help the gloom and the tedium; unleash your inner Paul Merton or Eddie Izzard at a cut price online improv class,
Each two hour Hoopla session on video app Zoom is a Skint friendly tenner (half the usual price), There'll be loads to keep you engaged, entertained and giggling.
Watch out for fun warm-up games, on-screen workshops and the chance to act out hilarious scenarios with others in the group.
We asked Hoopla's Steve Roe why people should think about joining; "Comedy can release tension. People taking our classes are laughing a lot. It won't fix other problems but it's a chance to do have some fun and do something absolutely ridiculous."
By God, we could do with a laugh and smile so you won't hear any arguments from us!
Now – 2nd May (as of now), Mon to Fri, 7pm – 9pm/ Sat 2pm – 4pm (excluding Easter): Hoopla online Improv Classses (18+)
£10/two hour class. For all info and to book click here