This is a day you won't want to miss. The Hard Rock Cafe is celebrating 50 years of business and it's doing it big time.
Since then it's become a global franchise, and to commemorate the big day, the restaurant is offering all their famous dishes at 1971 prices! Random fact: 1971 was the year that gave us David Tenant, Ewan McGregor, Damien Lewis, Winona Ryder and Sandra Oh.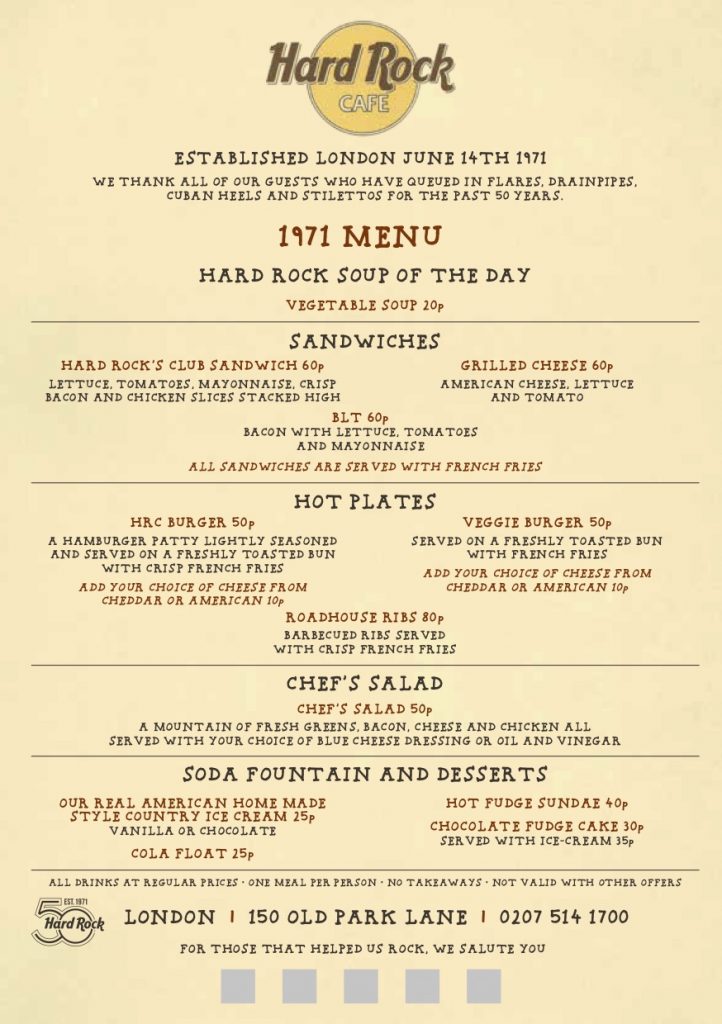 As you can see from the menu (above) we're talking their legendary burger for only 50p (with fries!), a club sandwich for 60p and, to round it off, a piece of chocolate fudge cake for just 30p. And, in a nod to how times have changed since the 70s there'll also be 50p veggie burgers.
In short, if two of you pitch up with a fiver between you, there's every chance you'll be leaving with a full belly and change.
We're going to take a wild guess that this is going to be one busy promotion. However, it is going on all day – and there are some al fresco tables – so, in our humble opinion, very much worth a punt.
Mon 14th June, 12pm – 10pm:  All day 1971 prices
The Hard Rock Cafe, 150 Old Park Lane, W1K 1QZ
No table booking, walk-ins only