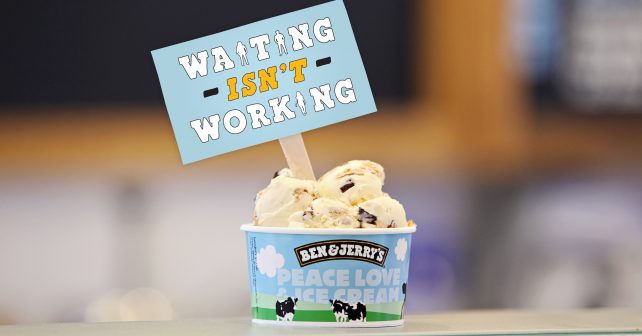 FREE ice cream always gets a big thumbs up from us, but this time the giveaway comes with a serious message.
Iconic brand, Ben & Jerry's is hitting the road for its Waiting isn't Working tour to highlight their partnership with Refugee Action.
They'll be loading up their van with freebie ice cream and hot chocolate for lucky punters to increase awareness surrounding asylum seekers. Currently they're not allowed to work. The aim is to persuade the government to overturn that decision so that whilst claims are processed – often a lengthy process – people aren't left in limbo.
Stephen Hale, CEO Refugee Action says, "Giving people seeking asylum the right to work would give more opportunity to people seeking safety, by allowing them to provide for their families and give back to their communities. The Waiting isn't Working tour is a great way to get our message heard far and wide."
Waiting isn't Working kicks off in Leeds and will be taking in four British cities including rocking up to London at the beginning of November.
In the meantime, if you support their aims head on over and sign their petition.
Thurs 1st Nov, 11am – 4pm, The Waiting isn't Working Tour: FREE Ben & Jerry's ice cream and hot chocolate with Chocolate Fudge Brownie ice cream
Queen Mary's University of London, Student Union, Mile End
29th Oct Leeds/30th Exeter/7th Nov Cardiff