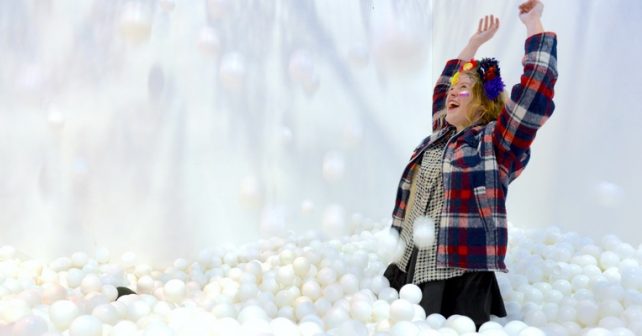 It's time for some happiness! Switch off the telly, abandon the tablet and under NO circumstances sign up for any news updates to your phone!
Relief is coming from the most unlikely of places. We give you; a giant Ball Pit for adults named, Jumpin!
The vessel holds 24,000 pure white balls and stands just shy of a metre tall. Fun-seekers are being offered 15-minute slots to jump in to the baubles and, well, feel cheered!
The giant pool is one of the stand-out features of the Winter Happiness Festival in East London which is back for its second year.
The four-week fair – held at the Canvas Cafe, just off Brick Lane – has been launched by non-profit organisation The Museum Of Happiness and is also offering FREE talks, yoga and mindfulness.
Guests can leave their thoughts on the Gratitude Tree
There will also be a 'Gratitude Tree' where visitors can share what they are most grateful for in life. Guests can also chuck away negative thoughts and emotions in the 'Let It Go' bin!
Museum Of Happiness co-founder, Shamash Alidina, says: "We're not here to force you to feel happy, but we want to create a space for you to meet with other friendly Londoners, reflect on what is going well in your life, savour the moment and have a bit of fun along the way."
So what are you waiting for? Say balls to the blues!

January 21st, The Winter Happiness Festival runs for 4 weeks at Canvas Cafe, 42 Hanbury Street, E1 
Ball Pit tix are £5.90. Get them here.
Please note: Jumpin! is for over 18s only and a minimum height applies.