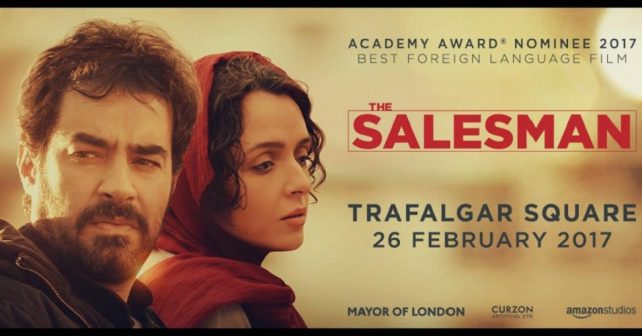 Didn't get your Oscars invite this year? Well, head down to central London next weekend.
Just a few hours before the 89th Academy Awards, Trafalgar Square is being converted into the capital's biggest FREE outdoor cinema for a special screening of The Salesman – the Iranian Oscar-nominated picture in this year's best Foreign Language Film category.
The film tells the story of a couple of young actors – Emad and Rana – and will be introduced (by video) by the film's director Asghar Farhadi, legendary British film-maker Mike Leigh and London Mayor Sadiq Khan.
The event has come about due to the "Extreme Vetting" travel restrictions imposed on Mr Farhadi.
The Iranian, who has previously won a foreign language Oscar for A Separation in 2012, had initially planned to attend the film awards, but insisted his conditions for a potential entry visa were unacceptable.
Iran is one of seven mainly-Muslim countries on Donald Trump's Banned list. In a statement, Mr Farhadi condemned the order, describing it as "humiliating".
The film-maker rejected any offer of special dispensation in solidarity with those who have had their travel plans quashed by the ruling.
The London screening is not ticketed so organisers are advising people to arrive early to reserve a spot. The Square opens at 3pm. Oh, and it's not covered, so make sure you wrap up warm. Los Angeles, this is not!
Trafalgar Square.
4pm – Introduction from the Mayor + video introduction from the film's director Asghar Farhadi 
Come to Skint London's charity comedy evening, Extreme Vetting, on March 3rd in aid of Refugee Action.