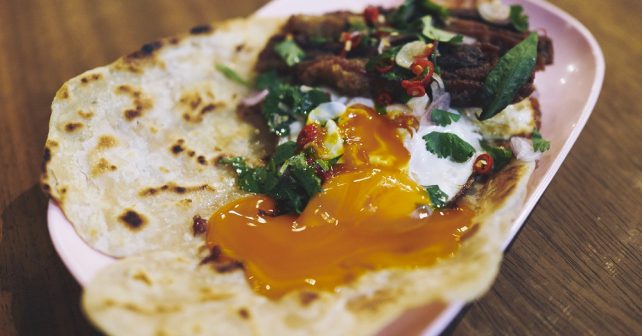 As we've proved many times there is such a thing as a FREE lunch; there's also FREE breakfasts and lunches if you know where to look. This week one East London restaurant is giving out four days of goodies on the house!
Thai specialist Smoking Goat in Shoreditch will be flogging the freebies to celebrate the launch of its new brekkie menu.
What's on offer? Scrumptious scran includes piping hot rotis filled with curried saffron eggs, Thai fried chicken and classic green curry. Take what you want from the menu, it's one freebie per person.
To snag a spot just lust log on to the reservations page of their website, it's as simple as that!
Thurs 25th – Sun 28th Jan, 10am – 3pm daily: FREE meals
(One dish per person, eat in only)
Smoking Goat, 64 Shoreditch High Street, E1 6JJ
For all info and to book your spot click here