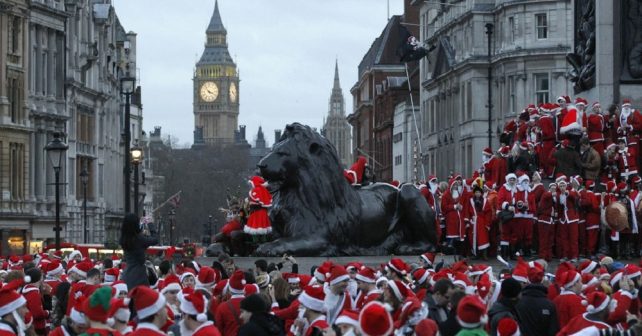 Ho Ho Ho, here's your chance to get in the festive spirit; a mass parade of Santas is coming to town.
Santacon is a quartet of mass processions across the streets of central London. It's an annual not-for-profit feel good day out with each of the hundreds of jolly men (and women) spreading good cheer among the capital's landmarks.
There'll be four routes to choose from in North, South, East and West London because these days there's a lot of Santas. It's FREE but to take part you must register. Simply tick your preferred area on their webpage and the exact routes will be revealed the day before.
FYI there's no sartorial short cuts with this one. If you're going to join the fun you need to go full Santa, although reindeer and elves are welcome too. You've been warned, lame bobble hats won't suffice.
Sat 9th Dec, 11am – 5pm: Santacon
Multiple locations across London 
For more info about Santacon click here