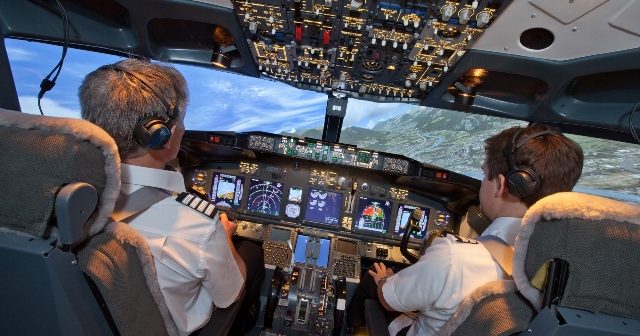 Ever wanted to jump on the controls and captain a plane soaring above the clouds? For most of us, the simulator at the London Flight Experience is probably the closest we will ever get.
Here you can take a quick 'flight' from Manchester to Heathrow without ever leaving Richmond High Road. The day I go my "First Officer"  is Paul, a qualified pilot, who gives me the lowdown on our mock-up Boeing 737 cockpit.
The attention to detail is quite extraordinary. It's "99.5% accurate" – with endless buttons and switches blinking overhead, numerous levers by my side, plus believable electronic screens straight ahead showing the terminal as we prepare to taxi.
Although trainee pilots train on programmes like these, the experience won't make you an instant expert. It's a fab overview of what it takes to get an aircraft off the ground – but sorry to disappoint any would-be action heroes – it won't make you the hero of the hour if your pilot falls sick midflight!

Skint's David Lewis gets to grips with the controls at London Flight Experience!
Paul talks me through tips for take off. We have to reach 135 knots and then rotate on the yoke ie, slowly pull the steering lever in front of me. Once we've received muffled clearance to take-off via speakers up above, I give it some extra thrust and the engine roar becomes near deafening. Like everything else in this adult's arcade game, it's startlingly realistic.
We trundle up the runway slowly gaining pace. 20… 50… 100 knots. I steady the steed using the rudder pedals, we hit our take off speed and Paul urges; "Rotate! Pull back! Pull Back!" and our plane is up and level and soon banking right for Heathrow.
It's an extraordinary buzz but I have to keep my cool. After thirty minutes flight time we'll be coming in to land.
———————————-
THE LOWDOWN:
One lucky winner will receive the chance to be a pilot at the London Flight Experience.
Terms and Conditions:
✈ London Flight Experience is giving away a voucher for an hour's flight worth £270. No cash alternative is available. All of the specific details about the experience can be found here
✈ Prize is for one person only and must be redeemed within 12 months
✈ Travel/accommodation/other expenses to London Flight Experience, 129 Upper Richmond Road, Putney, SW15 2TX are not covered
✈ For more info about London Flight Experience click here
Closing date is 10pm, Wed June 28th and late entries will not be accepted. Our decision is final.
Entering this competition will automatically sign you up to the Skint London newsletter.