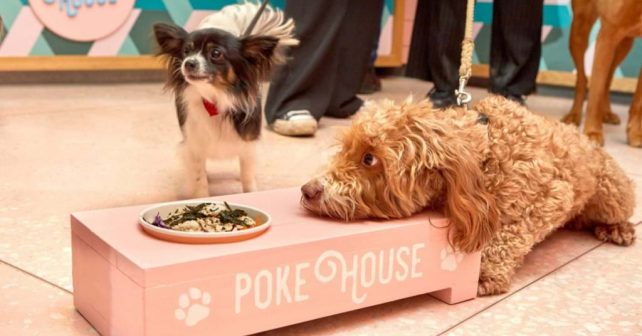 Want to meet fellow dog owners – or get some dog training advice? Then the Poke Pub Club is the place for you.
The brainwave of dog-friendly restaurant, Poke House this new Sunday dog walking club promises to be fun for both humans and their furry friends.
The dogs will literally be fed and watered with bottomless water and FREE poke bowls comprising of chicken and quinoa, created by dog nutritionist Cam Wimble. Meanwhile, the doggy mums and dads will get FREE coffee. (Yes, the dogs might be getting the better end of the bargain!)
There's also going to be an expert from dog walking specialists, Paws App on hand to offer advice and give training tips. The plan is that everyone (including the dogs) convenes inside the restaurant before taking a leisurely walk in the local area.
Holly Hilton, Poke House UK Marketing Manager, says: "Since we opened in Battersea, we have had lots of guests come and dine with their dogs, and with so many people walking their dogs in the area, we thought 'why not start a club for people to meet other dog mums and dads?'"
The club will be running every Sunday throughout the summer and it occurs to us that if you're a single dog owner then this might be a great way to bond with another like-minded single. Just putting it out there!
Sun 4th June, launch 11am and every Sunday thereafter: FREE dog club
Poke House, Battersea Power Station, Circus Road, SW11 8BZ
Book your FREE tickets here