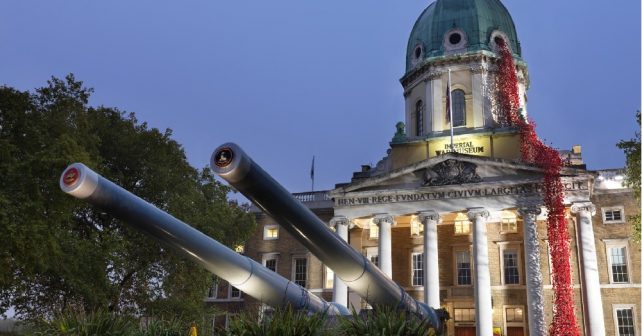 They made a huge impact when they were first displayed at the Tower of London in 2014 and now they're back. Weeping Window is the heart-stopping sculpture of ceramic poppies at the Imperial War Museum and they have gone on show to mark the centenary of Armistice Day at the end of WW1.
The installation of handmade poppies has been designed to cascade down the front of the building like a tear and it features flowers from the original display, 'Blood Swept Lands and Seas of Red' which saw 888,246 – one for every British or Colonial life lost at the Front during the First World War.
Diane Lees, Director-General of IWM, said: "This is a wonderful opportunity for the public to see an artwork which has played such an important role in connecting people with the First World War against the backdrop of IWM, which was founded in the midst of that same conflict to tell the human stories of lives engulfed in war and to show how conflict has shaped the world in which we all live."
Produced by artist Paul Cummins and designer Tom Piper, Weeping Window will remain on display at the world famous building in Elephant & Castle until November.
Now – 18th Nov: Weeping Windows
Imperial War Museum, Lambeth Road, SE1 6HZ
FREE – For more info click here