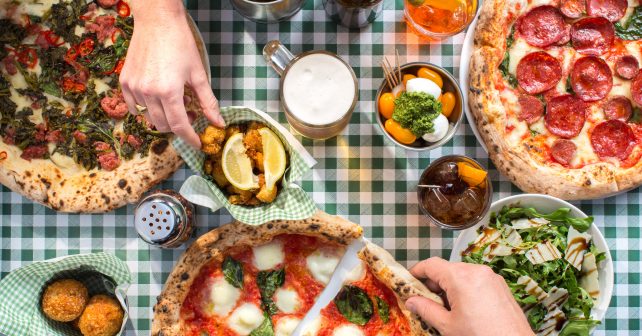 Pizza Pilgrims has come a long way since their first permanent site back in 2013. The restaurant has been such a hit, they're about to open their twentieth – a restaurant meets deli.
This time the popular pizzeria is heading to Queen's Park in north London with a giant – and we do mean giant – opening pizza giveaway.
To announce their arrival in the neighbourhood they're saying hello by handing out a ton of FREE pizza slices. On three separate days!
There's the weekend Mega Slice Day where a staggering 1,000 slices will be handed out. Plus there's a further two days preceding this – the Mini Slice Days – where 500 slices will be given away each day, both timed to happen after the kids have left school. So pay attention, parents!
In addition to meat pizza there'll also be a veggie option so everyone should leave happy. It's quite the hello to their new neighbours!
Sat 1st July, 12pm-3pm: Mega Slice Day/1,000 FREE takeaway pizza slices
Mon 26th June & Thurs 29th June, 3pm-5pm: Mini Slice Day/500 FREE pizza slices per day
Pizza Pilgrims, 43-47 Lonsdale Road, London NW6 6RA