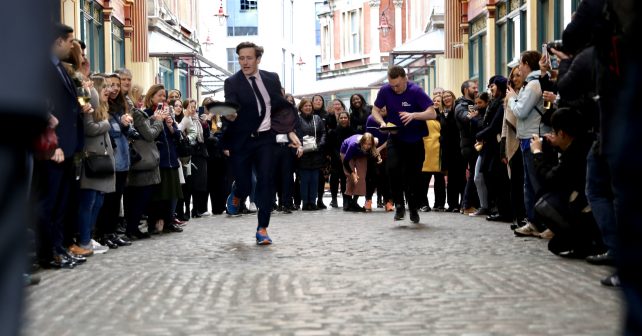 If you work in the City you'll want to be at this epic pancake giveaway on Shrove Tuesday. The Lamb Tavern – minutes from Monument and Bank – is giving out 500 FREE pancakes for Pancake Day and all you've got to do is pitch up at lunchtime to claim one.
If that sounds too tame, the more adventurous will be able to show off their tossing skills at their now legendary pancake race. This involves a 100 metre run through the 14th century market, frying pan in hand displaying your virtuoso flipping skills. The winner(s) earns themselves their famous Frying Pan Trophy plus a hamper filled with treats from the market retailers.
A word of caution: if you're racing, might we suggest you take along a pair of trainers. Entry's at your own risk and slippery work heels could result in you flipping yourself as well as the pancakes!
Tues 25th Feb, 12.30pm: 500 FREE pancakes
The Lamb Tavern, 10 -12 Leadenhall Market, EC3V 1LR
To register for the race email: lambtavern@youngs.co.uk
Entry's FREE and it's open to individuals + teams up to four