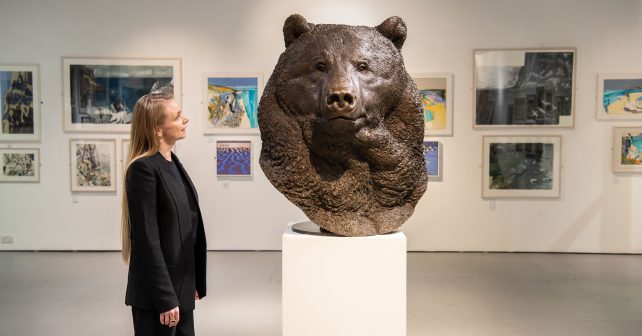 This year is the 60th annual exhibition of The Society of Wildlife Artists. 'The Natural Eye 2023' is showcasing the very best of art inspired by the natural world and features a wide range of contemporary work celebrating the wild.
Many different types of mediums will be represented from watercolours and pastels to printmaking, drawing and sculpture. Which brings us onto the bear.
At the centre of the exhibition is a massive bronze bear head. A kodiak brown bear, it's a new work by NIck Bibby regarded as one of today's best living sculptors. It weighs 158 kilos which, in old money, is over 24 stone! Incidentally, if you've got a few quid down the back of the sofa it's yours for £50,000!
Thurs 2nd Nov – Sat 11th Nov, 10am – 5pm: The Natural Eye 2023
Mall galleries, The Mall, London SW1
Entry £5/concessions available
For more info click here