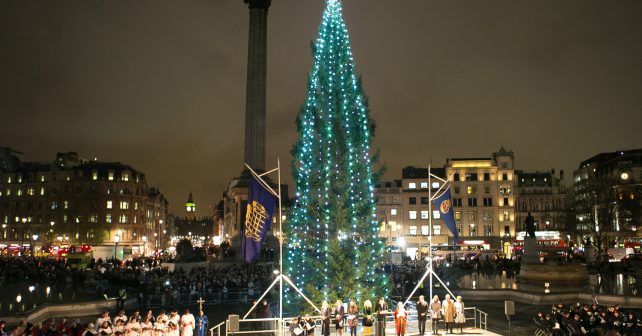 You really know Christmas is coming when the UK's most famous tree goes up in Trafalgar Square. This year marks the City of Oslo's 70th annual Christmas tree gift.
Known affectionately by Norweigan forestry workers as the "Queen of the Forest" it's been a token of gratitude to the Brits  since 1947 for our support to Norway during WW2.
The 22 metre, 116 year old tree – which now even has its own twitter account! – will make its 700 mile journey from Oslo to London by road and sea and, once the tree arrives next to Nelson's Column it will be decorated with around 900 energy-efficient vertical strings of lights.
Get along to the lighting ceremony where there will will be Carol singing  from The Salvation Army and St Martin-in-the- Fields choir plus poetry by local school children.The Mayor of Westminster and the Norwegian Ambassador do the lighting honours.
Switch on: Thursday 1st  6pm, Trafalgar Square.
It will remain there until 8th January 2017
Follow @TrafalgarsTree