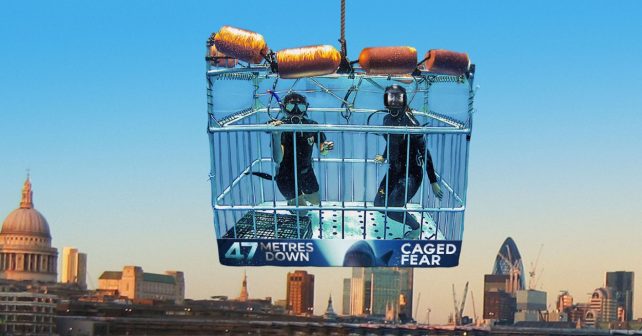 It's fair to say this is one event strictly for adrenaline junkies.
New film, 47 Metres Down, is the story of two sisters who must battle for survival when their dive cage plummets 47 metres with a dwindling supply of oxygen.
Entertainment One, the film company behind it, has come up with a stunt to recreate the experience with a FREE simulator that brings to life what it's like to be trapped at the bottom of the sea, surrounded by man-eating sharks.
Appropriately enough, it's called 'Caged Fear' and organisers promise that the experience will be full of shocks, jolts and surprises.
To make it as realistic as possible gutsy volunteers will be immersed in film footage viewed through specially modified diving masks, whilst trapped in a rickety cage and dangled over waters which give the appearance of being shark-infested.
The Caged Fear stunt is to promote the release of Shark horror 47 Metres Down
Still with us? Heroes that get through the 4min 7secs ride of terror will be rewarded with tickets to a special screening of the film or movie merchandise. If it all gets too much thrill-seekers can hit the panic button to bring the nightmare to an end.
The one-day South Bank attraction (if you want to call it that) coincides with the film release the same day.
If you suffer from galeophobia (fear of sharks) this is the stuff of nightmares – but we can't wait!
Wed 26th July, 8am – 5pm: Caged Fear
Observation Point, by Gabriel's Wharf, Upper Ground, SE1
Each experience is for one or two people. 16+
Organisers recommend sensible footwear (flats, trainers etc.)
Not for the faint-hearted
FREE – First come, first served. No booking or reservations