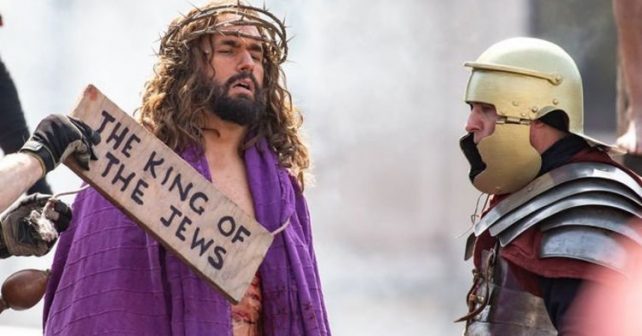 This FREE open air performance of The Passion in the shadow of the National Gallery has become an Easter fixture in London.
Brought to the capital by the Wintershall company, it is an epic retelling of the three days of Easter.
Featuring a fully costumed cast of over 100 (predominantly volunteers) along with donkeys and doves, it begins by covering the events of Good Friday when Jesus was arrested, tried and crucified by the Romans.
It culminates with the resurrection of Jesus on Easter Sunday when he rises from the dead, the holiest day in the Christian calendar.
Wintershall producer, Charlotte de Klee says, "This play not only speaks to those of Christian faith, but to those of other faiths and traditions and those that have no personal beliefs. Over the years the vast audiences the play has attracted stand as testimony to that fact."
In addition to a large screen, performances will also have BSL interpreters. Need we say, that given the British weather best bring along warm and rain resistant clothes.n A cushion wouldn't go amiss either!.
Good Friday 7th April, 12pm (noon) and 3.15pm: FREE
The Passion, Trafalgar Sq 
Unable to get there? There'll also be a livestream of the performances on Facebook