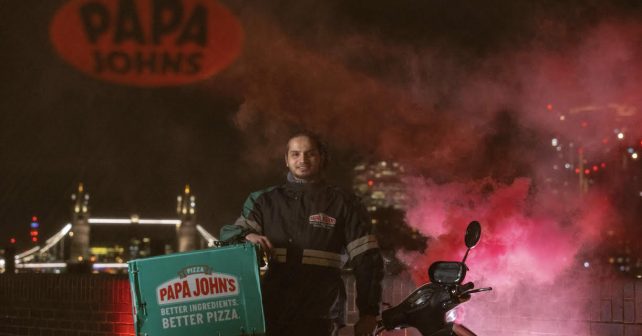 There's not much good news about at the moment so anything cheery – and FREE chicken is always good news – gets the thumbs up from us,
To mark the release of the new Batman outing with Robert Pattinson, pizza joint Papa John's is giving out FREE portions of their limited edition Black Ghost Chilli Chicken wings over two evenings in four London locations: Shoreditch, Hackney, Peckham and Fulham.
It's not the most straightforward of giveaways as for this one you'll need to keep your eye on the sky! And look for a branded Papa John's van which will be giving out the freebies.
Apparently, the van is going to be parked up projecting a signal into the night sky or/and onto a nearby building. Nope, we've no idea what the signal will look like. But, don't panic, we've been assured the van will only be two minutes away from a Papa John's store so you won't need to look far to get your hands on the wings. (Alternatively, sod the signal and just pop into the store itself and ask where the van is!)
All you need are the timings below and you're good to go. Just be sure to take along your Robin!
Thurs 3rd March:
7-8pm Hackney – 32A Eastway, E9 5JB:   FREE chicken wings
9-10pm Shoreditch – 202 Hoxton St, N1 5EH: FREE chicken wings
Fri 4th March:
7-8pm Peckham – 193 Queen's Rd, SE15, 2N8: FREE chicken wings
9.30-10.30pm Fulham – 64 Walham Grove, SW6 1Q: FREE chicken wings
For more info click here