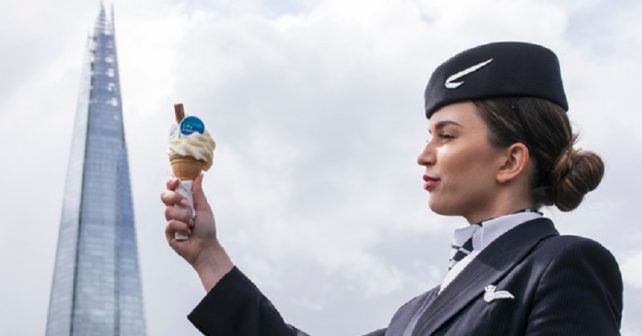 These treats are sure to take off. (Sorry.) Staff in a mobile British Airways ice cream van are planning to hand out FREE gelatos for three days as part of its birthday bash.
The Stop Me And Fly One giveaway is all to celebrate the national carrier's 100th since its forebear was set up in 1919. As part of the promo there'll also be a chance to win great prizes. Look out for a free five-star holiday, flights and hotel stays and even – wait for it –  some beach balls.
The ice cream van will be setting off on Thursday from City Airport before parking up at London Excel. After that it'll be zigzagging its way to Westfield Stratford for a couple of days. Keep an eye on BA's social media for exact timings.
Thurs May 16th at London Excel, E16/ Fri May 17th & Sat 18th at Westfield Stratford, E20: BA's Stop Me And Fly One
For more info – click here