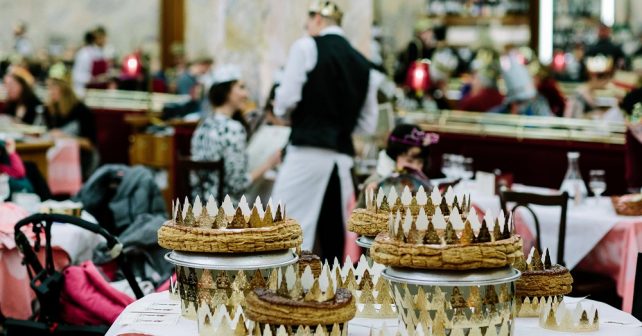 Here's a fab way to banish those January blues; a FREE three-course meal. But you'll have to dress the part.
This is an annual freebie and it's all thanks to the kind people at Brasserie Zedel who have been celebrating Fête des Rois in style for several years now. For the uninitiated that's the French festival of epiphany. Translated as "Feast of kings" our Gallic cousins tend to tuck in to tasty gallette cakes – pictured above – to celebrate.
To nab the goodies you simply have to show up with a crown firmly on your head.
Guests can choose between courses for their set menu formule. Options include Sea bream or chicken chasseur for the main and a lemon mirangue tart for pud, There's even a glass of wine thrown in for those that fancy.
All the advanced freebie tickets have been snapped up (of course they have) but the venue is holding back plenty of walk ins from 5pm on the day. Just be prepared to queue because – as we all know – good things happen to those who wait!
Mon 6th Jan, from 5pm: Fete des Rois at Brasserie Zedel
20 Sherwood Street, W1F 7ED
Each person must show up wearing their crown! Crowns from a cracker and other similar crowns of the paper variety do not qualify so get creative.
For more info click here