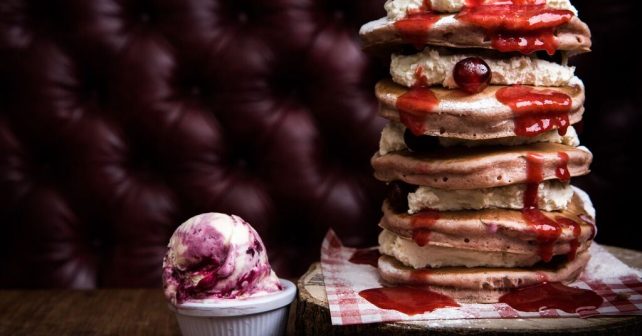 Traditionally the day that everyone gorged before the beginning of Lent on Ash Wednesday, Shrove Tuesday is now better known as Pancake Day. And, as per, London venues are pulling out all the stops from the mad and unusual to the straight up cheep 'n cheerful.
Flippin' heck, Polo Bar in Liverpool St has really pushed the boat out with this year's 'Tower' pancake extravaganza (pictured above)- so called for evident reasons, these fluffy bad boys are one serious homage to the day. At just over £10, it's epic and more than enough for two so you can split the bill.
Too big? Not to worry, their normal menu has a range of pancakes under a tenner from Cookies & Cream to the Banoffee.
Open round- the -clock so, no matter what time of day you get the pancake urge, you're sorted!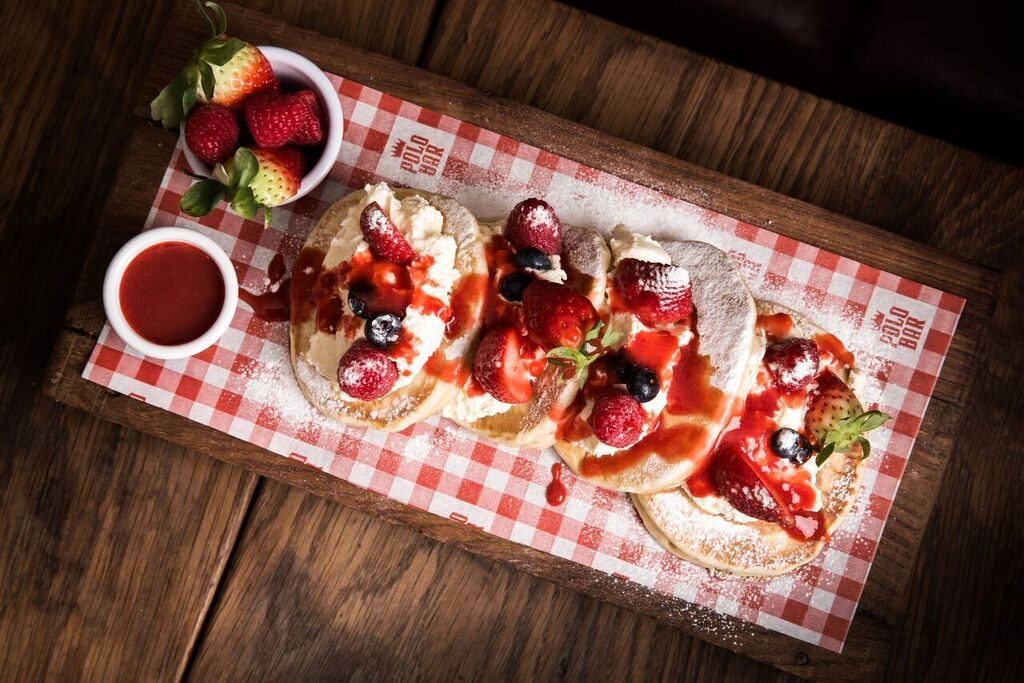 This Polo pancake makes a great nod to your five a day!
Tues Feb 13th, Polo Bar, open 24 hours:
176 Bishopsgate, EC2M 4NQ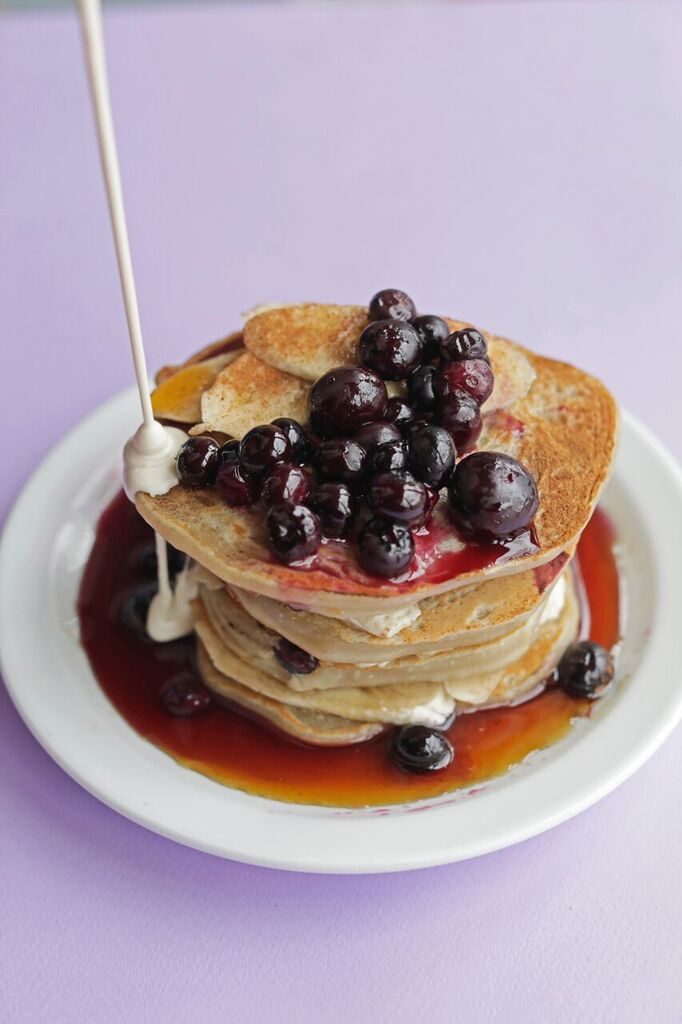 Vegans are catered for with this blueberry delight at the Breakfast Club
On the day itself, The Breakfast Club is running its annual charity initiative. This is your chance to eat pancakes AND donate to good causes. If you can hoover up a stack of 12 pancakes in 12 minutes or less then they foot the bill. Fail to complete it in the time and you pay full price and the dosh goes to local charities.
Their special pancake menu is available for a week and includes some unusual savoury ones – from Korean fried chicken to a pizza collaboration with Pizza Pilgrims. Best of all, if you're vegan you needn't miss out on the fun as their banana and blueberry stack with cupcakes is vegan and gluten free.
Tues 13th Feb, opening times vary: The Breakfast Club charity initiative
Breakfast Club, locations across London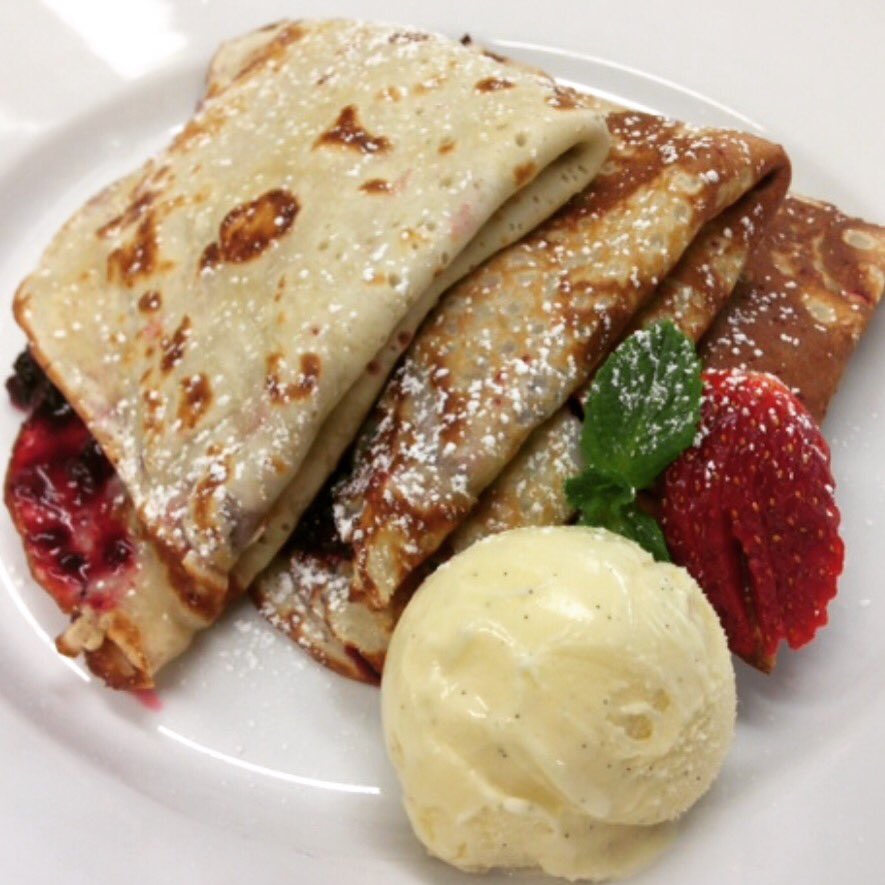 VQ is serving up some bargain busting crêpes 
With four branches across London (Aldgate, Bloomsbury, Chelsea and Notting Hill) the 24 hour chain VQ Restaurants caters to early birds and night owls.
They've got some delicious flavours lined up for the day, including Nutella, banana and coconut plus apple and cinnamon with crumble topping and ice cream, in addition to the time-honoured, traditional lemon and sugar (pictured above).
What's more at just £4.50 these beauts are a mega bargain for central London.
Tues 13th Feb, 24 hours: Pancakes 8am – 11pm at all branches
VQ restaurants, locations across London
---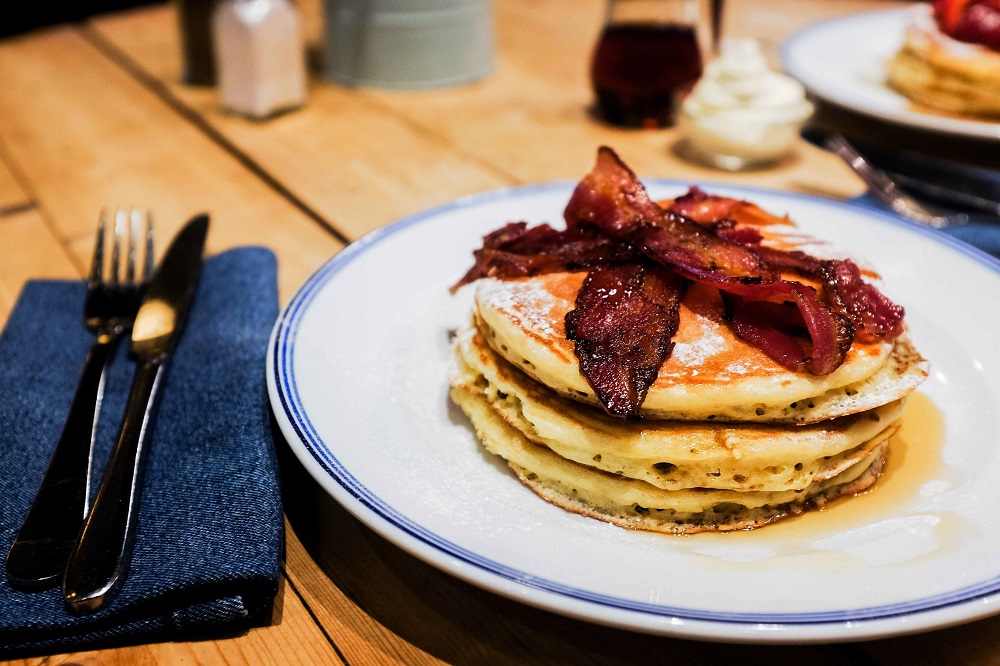 A Limeyard speciality is maple bacon
If you want to be in with a chance of living the Shrove Tuesday dream for FREE, pay attention;  Limeyard is giving away bottomless pancakes to 10 lucky winners!
Yep, that's right – as many pancakes as you can wolf down in a single sitting on the day itself. Get on it because the competition closes Monday and staff will be announcing the winners the same day.
Not to worry if Lady Luck's not on your side, it's still well worth hitting up branches of the American diner in Ealing or Staines and chomping on Maple Bacon (above), Blueberry or Strawberry and Cream crepes. Mmmm!
Tues 13th Feb, 8am – 11pm: Limeyard: both Ealing and Staines branches
To enter the competition click here
---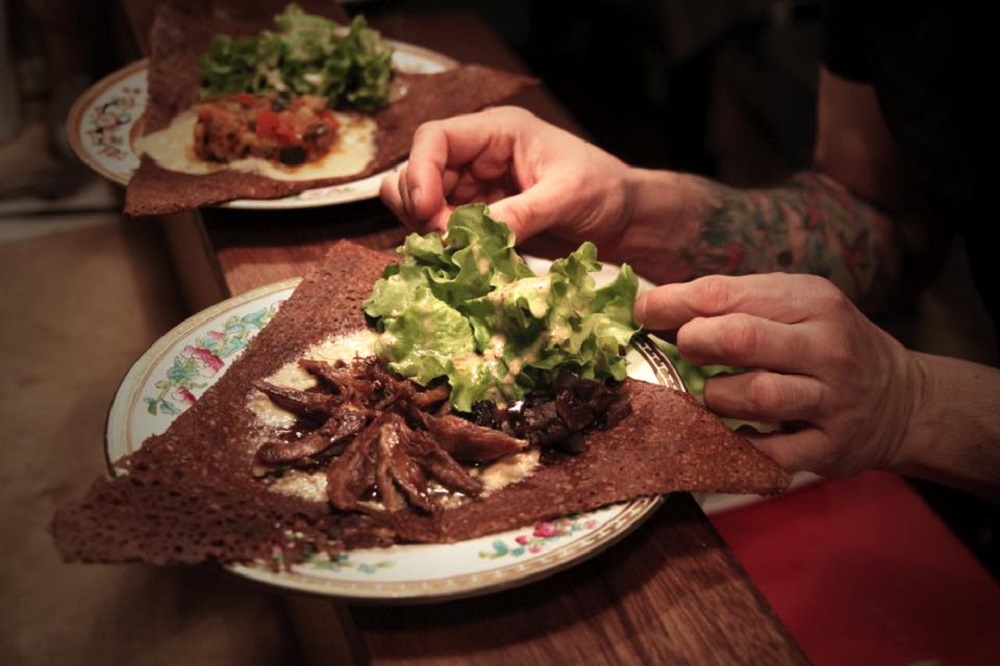 Le Merlin does a great line in savoury pancakes
For those who want to add a spot of va-va-voom to their Pancake Day, try Le Merlin Crêperie in Hackney.
The fancy French hot spot will be serving up traditional buckwheat flour galettes with an amazing option of Confit duck, blue cheese sauce, honey and caramelised onions. But, if you want to keep it simple, there's chocolate sauce and banana or good old lemon and sugar which comes in at a price-busting £3.20. Allez!
Tues 13th Feb: Le Merlin Crêperie,  8am – 10pm
78 Lower Clapton Road, E5 0RN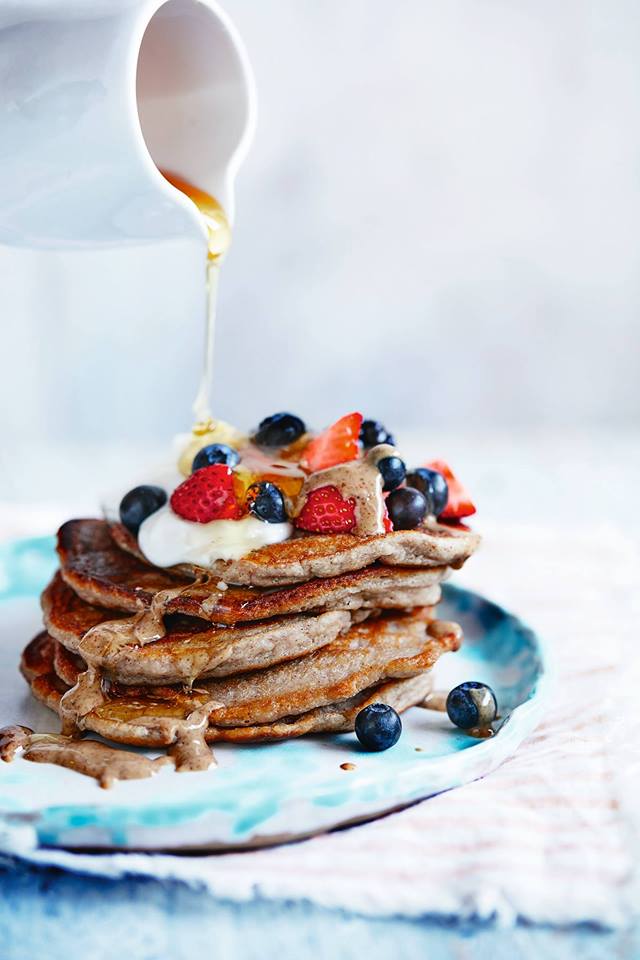 Bag FREEBIES at the Pip & Nut pancake pop-up
The only thing better than pancakes is FREE pancakes. Kensington, you're in luck.
The people at Pip & Nut are taking up residence at Whole Foods for two days, offering both sweet and savoury options. Sneak out of the office and rock up at either of the two times below and you can get your paws on one.
Mon & Tues 12th/13th Feb, 11am – 12pm & 4-5pm: First 100 pancakes at both times and days FREE
Whole Foods Market,  63-97 Kensington High St, W8 5SE