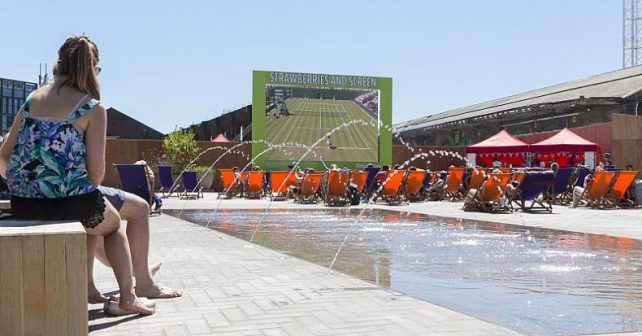 It's that special time of the year! The adoring crowds, Pimms, rain stopping play and endless shots of a grimacing Judy Murray – Wimbledon's back!
The annual tennis fiesta is a rock steady fixture in the capital's stacked summer schedule and if you fancy topping up the tan – but don't have Federer-deep pockets – there's loads of places showing every drop, passing and trick shot on big screens every day of the tournament. And all for FREE! So here's Skint London's guide to the best places to catch this action completely gratis over the next fortnight.
========================
++ NORTH ++

🎾 Get down to Kings Cross for some Strawberries and Screen at the Granary Square development. Their giant telly is back again showing live games to the adoring crowds at Lewis Cubitt Square just a short walk from the terminus.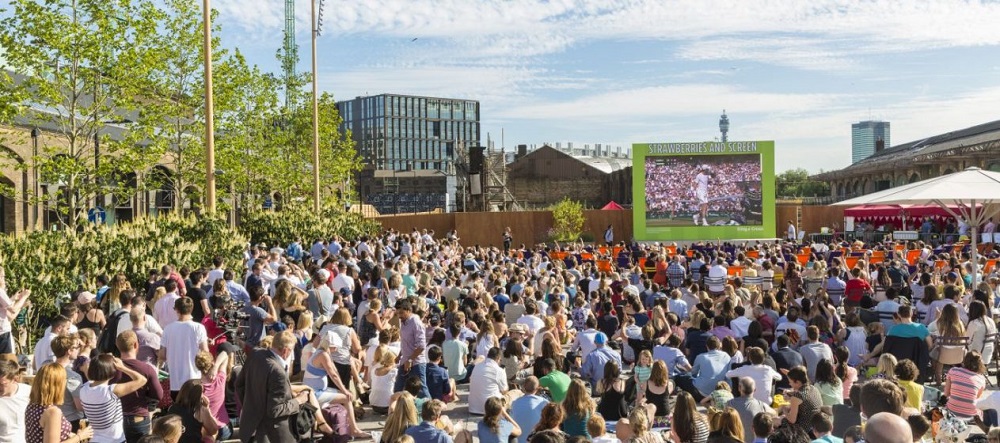 Get down to King's Cross to watch the action at Lewis Cubitt Square
If you want to splash out there'll be Pimms and strawberries to feast on or just pack a picnic. There'll be 50 deckchairs on offer too if you're one of the lucky ones to bag a pew.
Strawberries and Screen, Lewis Cubitt Square, Kings Cross, N1C 4AB
---
🎾 Take a break from your vintage clothes shopping at Camden market and pop by the Wimbledon Screening area where there'll be showing all the action outdoors in their ampitheatre. As it's Camden you'll be a mere bagel's throw from some great streetfood and tasty cocktails!
Wimbledon Screening at the Ampitheatre, Camden Lock Place, NW1 8AF
---
++ BY THE RIVER ++
🎾 For something a wee bit different, take a stop by Southwark where Championship sponsors Stella Artois have taken over Flat Iron Square for two weeks. Their Vantage Point area is showing tennis on their Jumbotron alongside some live alternative commentary.
Visitors can also grab some artinisinal food from the traders nearby – you're by Borough after all!
Vantage Point, Flat Iron Square, 53 Southwark Street, SE1 1RU
---
++ SOUTH ++
🎾 The pick of the top-storey showings is at the Cardinal Place Roof Garden's Free Wimbledon Screening – a tennis ball lob from Victoria Station. Their high-up hangout will be streaming all the action with visitors invited to watch from deckchairs or giant cushions atop the the comfy AstroTurf.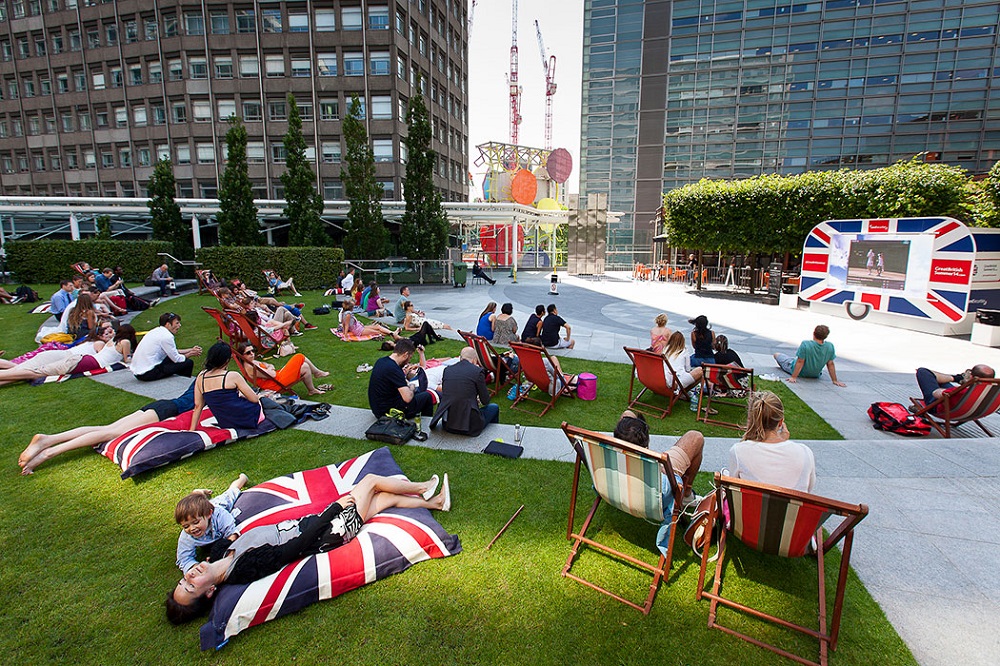 Get down to Victoria to watch the tennis from Union Jack cushions!
Feel free to bring a picnic or, if you get peckish, head over to the on-site barbecue for a sizzling pick-me-up. Really can't be bothered to move? You're in luck! Fans will be able to order a Franco Manca pizza and have it delivered straight to their deckchair.
Guests can't bring booze from outside in to the rooftop space but fret not – there'll be a Harry Brompton's bar serving up their boozy iced teas as well as non-alcoholic cocktails.
FREE Wimbledon Screening, Cardinal Place Roof Garden, 76-98 Victoria Street, SW1E 5JD
---
++ WEST ++
🎾 If West is best, get down to Merchant Square's Big Screen: Wimbledon where they're transforming the outdoor space in to a little piece of tennis heaven. The al fresco spot in Paddington will be open til 10pm each day showing Nadal, Williams et al on the big screen. There'll be deckchairs on offer too for the lucky few who nab one!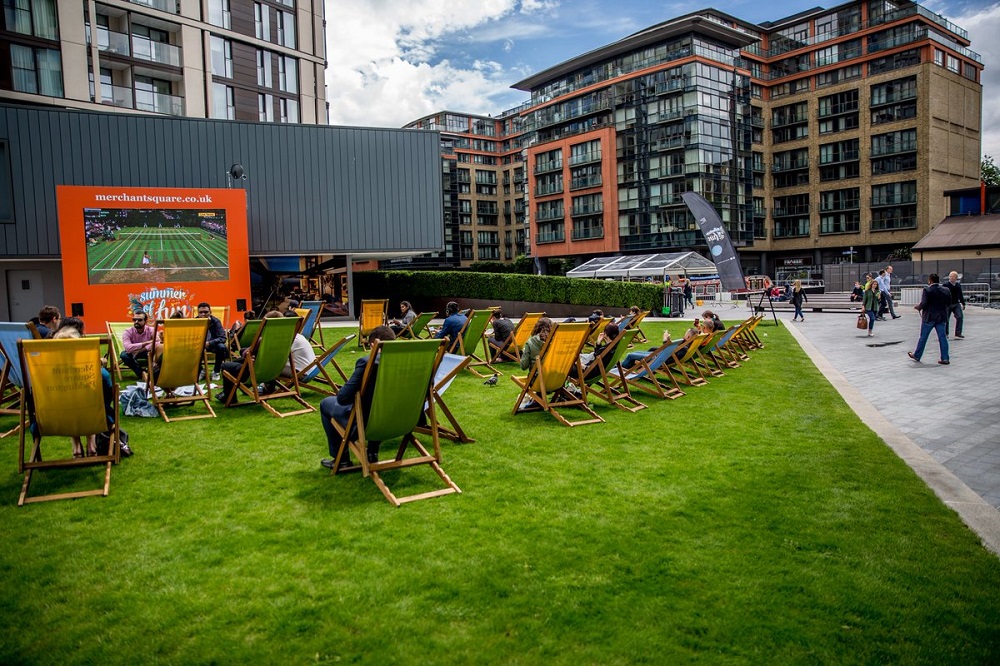 Merchant Square in West London will be showing the action from the All England Club
Much unlike the All England Club, there'll be astroturf to relax on!
Big Screen: Wimbledon, Merchant Square, Harbet Road, W2 1BF
---
++ EAST ++
🎾 If you're heading East then swing by St. Kats Big Screen at St Katherine's Dock for a chance to soak in the sun and sport on their floating pontoon! Bring a picnic and soft drinks; booze must be bought from vendors at the site itself!
St. Kats Big Screen, St Katherine's Dock, St Katharine Marina, 50 St Katharine's Way, E1W 1LA