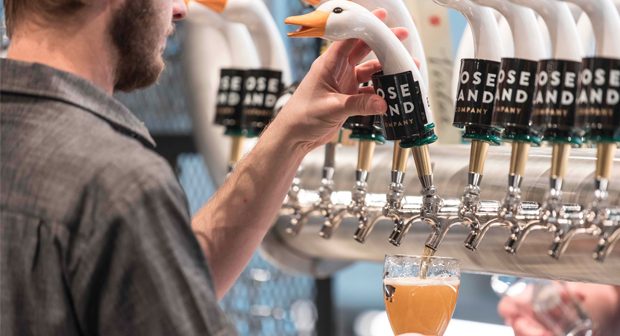 Listen up London, there's hundreds of FREE beers being given away in a prize draw that includes a trip to Chicago!
It's all thanks to US brewmasters Goose Island celebrating National IPA Day and they're giving Londoners the chance to join in with giveaways including pints of gratis grog, beer for a year, a £50 bar tab and even a trip to the US city where Goose Island started.
How to cash in?
The craft beer heroes will be launching a street art mural in Shoreditch made up of 2,500 cans. If you fancy a cheeky Thirsty Thursday pint, you can upload a pic of the mural onto Instagram – using #GooseIPADay and follow The Brewpub – to bag a FREE pint of Goose IPA at The Goose Island Brewpub in Shoreditch.
Over the weekend there'll be more giveaways when 50 cans per day will be taken down from the mural and given to those who swing by. These can also be traded for a freebie pint at the Brewpub.
Five of those cans per day will include amazing prizes so keep your eyes pealed; someone has to win the trip to Chicago!
Fri 2nd – Sun 4th Aug: FREE Goose Island pints
Goose Island's street art mural is at Ebor Street, E1 6AW
Cans given out on Ebor Street from 4.30pm – 6.30pm on Friday / 1.30pm – 3.30pm on Sat and Sun

Goose Island Brewpub,
222 Shoreditch High Street, E1 6PJ
For more info click here