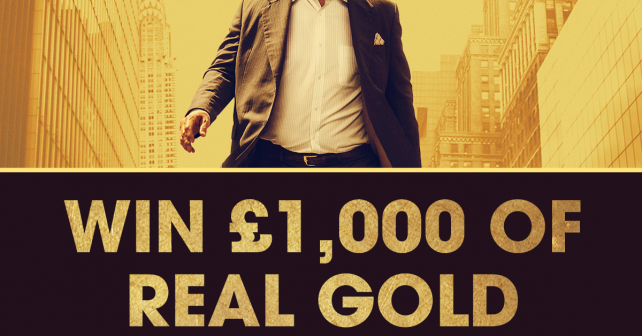 How do you fancy the chance of winning a £1,000 gold bar issued by the Royal Mint?
Then you'd better leg it to Hammersmith Broadway shopping centre this weekend. To celebrate the forthcoming release of the new Matthew McConaughey film, Gold, StudiocanalUK is running a fabulous competition in partnership with Amazon Locker. And we've joined forces to spread the word.
It couldn't be easier!
STEP 1: Find the Amazon Locker in the shopping centre. Simples: it'll be gold-wrapped and big enough for a blind man on a galloping horse not to miss.
STEP 2: Open the locker with a special code. There's a different code for Saturday and Sunday and we'll be revealing both on our twitter feed, on each successive day at 10am.
STEP 3: Enter this code on the locker screen and, hey presto, the door will swing open revealing an envelope. Inside there is a certificate which means you're one of only 10 lucky people nationwide who'll be entered into a draw for the gold bar. (If the locker's empty bad luck, someone's pipped you to it.)
The best bit? You're a winner whatever happens. If you don't win the bar your search won't have been in vain. All winners get a prize and these include a golden iPad mini 4, gold Ray-Ban aviators, and a gold Fitbit Alta.
Talk about a Golden Opportunity!
January 28th and 29th, Hammersmith Broadway Shopping Centre. Check the Skint twitter feed or Studiocanaluk for the codes on both days. 
The winner is the first to find the locker and enter the code. For more info and Ts and Cs check here.
Gold hits cinemas on February 3rd.
Sponsored content.