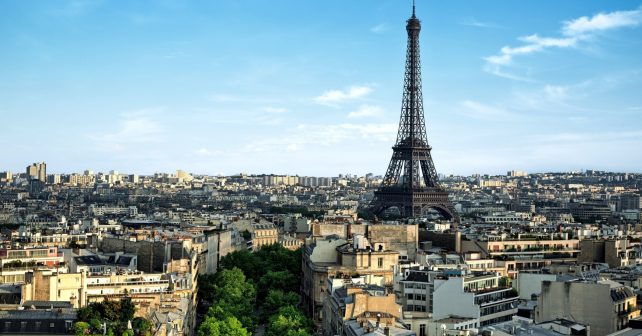 Ahh, Paris! Croissants, cathedrals and lashings of Côtes du Rhône. And now, thanks to très rapide Eurostar trains, the sights and smells of the Great Capital are only a two-and-a-bit hours jaunt from St Pancras.
We had a painless check-in a half hour before departure, a casual cafe latte and leaf of the Sunday supplements before our continental train trundled off. One Facebook update under The Channel later (the free on-board Wifi's handy) we're there! This has to be the easiest international travel there is; it's almost cheating, really.
The Paris terminus at Gare du Nord is a short underground hop to the best sights. And there's plenty to keep Brits entertained on a shoestring, even with a plunging pound and strengthening Euro.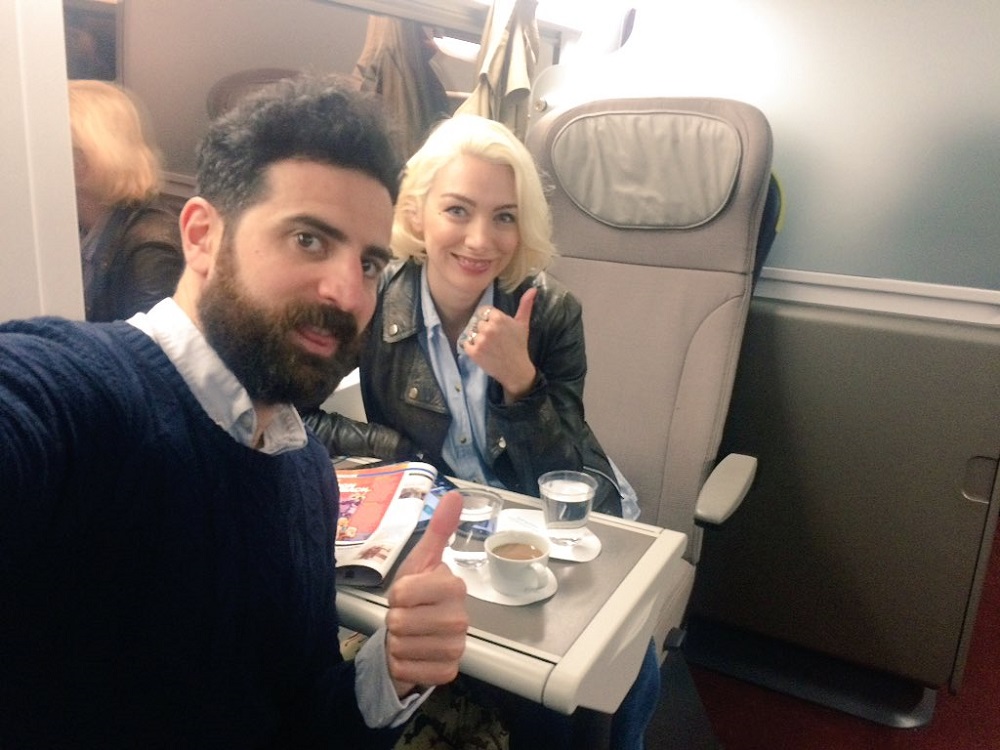 Thumbs up! Skint London's David Lewis and girlfriend Lucy on the Eurostar to Paris
TOP 3 SKINT THINGS TO DO IN PARIS
💙 Want to find your French feet for FREE? Book on to a gratis walking tour with City Free Tours where English-speaking specialists dispense the lowdown on the history of the city for no charge. Check out cobbled streets of Montmartre or fabled Notre-Dame; guides make money from tips!
♡ Fab nights out in the City of Lights don't have to be all cash-frittering folly. Why not taste the tipples at the bril dive bars in the Latin Quarter? Opt for the hipstery Le Pantalon or late cocktail hub Le Crocodile opposite. (You're bound to like one of them!) Try and recall that GCSE French as you sup four euro beers among gregarious Sorbonne students and chic 40-somethings loudly discussing politics.
❤️ Blow away the Sunday morning cobwebs with a rummage around Marché aux Puces de St-Ouen in the north of the city. Part-Portobello-part-Steptoe & Son, the sprawling market is a magnet for bargain hunters on the look out for keepsake trinkets, funky furniture, vintage clothes, dog-eared Superman comics… Stuff you didn't know you needed til you saw it. Try and haggle too. Allez!
————————————
Now thanks to Eurostar we're giving away a pair of FREE return tickets to the Capital of Love for a French adventure of your own. For your chance to win simply enter your name and e-mail below!
THE LOWDOWN:

🇫🇷 The prize will entitle the winner and a guest to two Eurostar return tickets in standard class from London St Pancras to Paris Gare du Nord.
🚂 Travel on the Eurostar is subject to availability and is valid until 30 September 2017 excluding bank holidays. There is no cash alternative offered.

🇫🇷 Eurostar offers return fares from over 300 stations in the UK. For bookings visit eurostar.com or call 03432 186 186.
🚂 Should the prize winner be unable to take up the offer, we must be notified asap so that we can reallocate the prize.

🇫🇷 Closing date is Friday May 26th 10pm and late entries will not be accepted. Our decision is final.
🚂 Entering this competition will automatically sign you up to the Skint London newsletter.