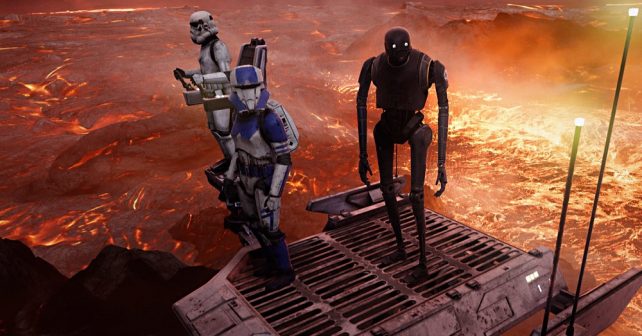 From a galaxy far far away – well, Stratford to be precise –  there's a new hyper-reality game that brings out the inner six-year-old in every Star Wars fanatic.
I've ventured down with my ten-year-old nephew, Hux, to check out The VOID's immersive new Star Wars: Secrets Of The Empire.
Enthusiastic staff fit us with a heavy backpack, helmet and drop-down visor before we're ushered in to an anteroom and shown a video featuring real Star Wars characters ordering us to go under cover and recover some loot that's fallen in to enemy hands. We're then instructed to pull down our googles.
Jedis, we're giving away £30 tickets for you +  three mates or your family
From that moment we're no longer Londoners, we're hyper-real stormtroopers. We can't hang about – we're under orders from the rebellion and must travel to the molten planet of Mustafar and sneak into the heavily guarded rebel base to retrieve our bounty.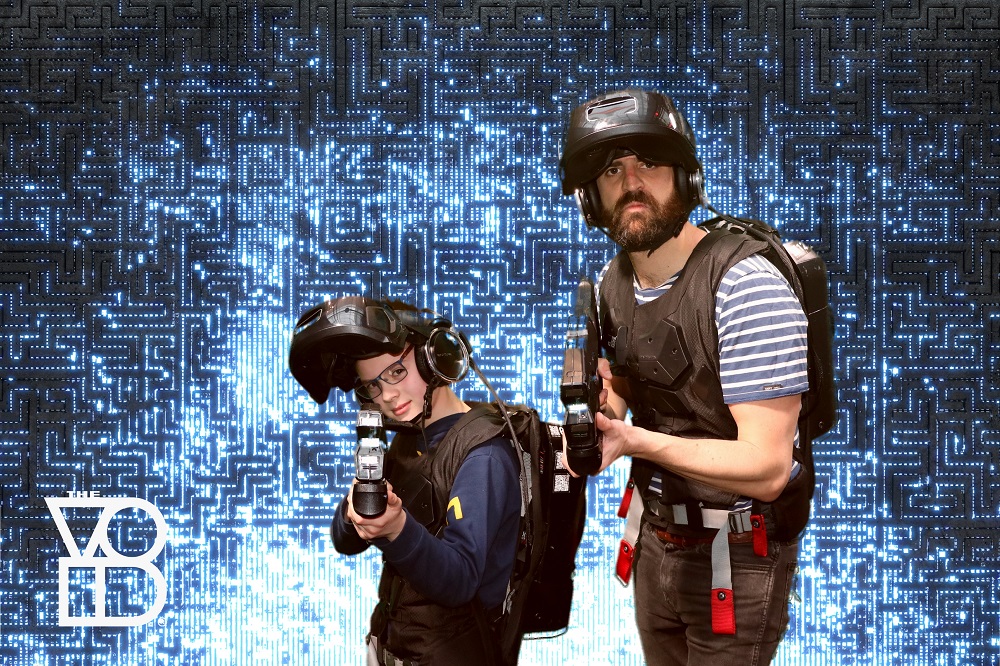 Skint's David and nephew Hux get ready to blast their way out of The Void
The special glasses afford us 360-degree vision of droids, space ships and popping red-hot liquid. "Hang on!" I shout to my little companion as we glide through the air.
Hux and I play as a team. We're joined by a lanky K-S20 droid guide who prompts us with clues and mini tasks. It's not long until our cover's blown and we're reaching for blasters to shoot our way out. Each laser shot that lands twists and pops off my torso. All that's left is a heart-stopping cameo from Darth Vader himself!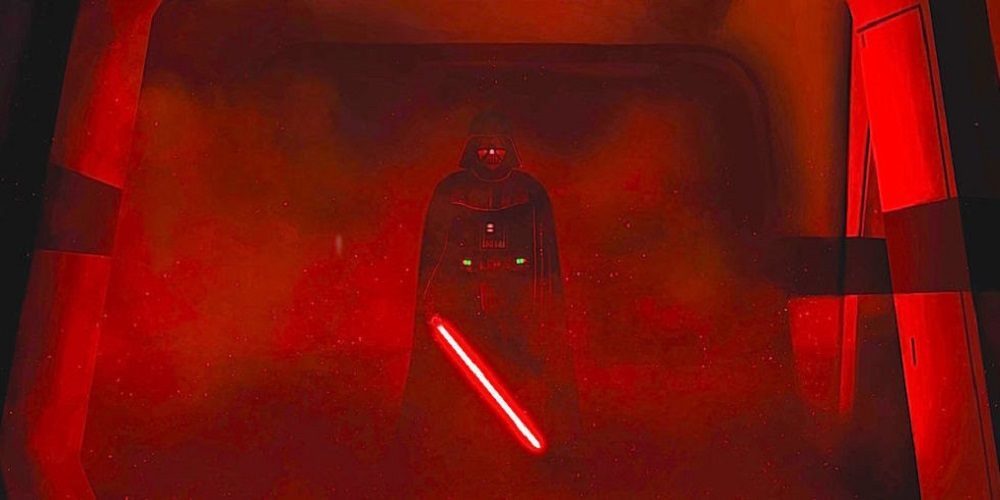 There's even a short inter-galactic interaction with you-know-who
By the end we stagger out speechless. And what did little Hux think? "It was sick, epic…an awesome experience; I'd give it eleven-out-of-ten, uncle Dave!"
Boom. Serious uncle brownie points for me!
====
Now – June 19th, 2018. Mon – Sat, 10am – 10pm / Sun, 12pm – 6pm: The VOID's Star Wars: Secrets Of The Empire
Westfield Stratford City, Montfichet Road, E20 1EJ
To book tickets and for more info click here
=========
The lowdown
🚀 The winning tickets are only valid for The VOID's Star Wars: Secrets Of The Empire at Westfield Stratford City. Ticket includes entry for up to four people (or minimum one person)
🎫 Winning tickets are for entry only and does not include travel costs to the venue. Players must play at the same time slot. There is no cash alternative
🚀  Closing date is 4pm Monday May 7th and late entries will not be accepted. Our decision is final. The VOID's Star Wars: Secrets Of The Empire is running until June 19th 2018 and winners must take up their place before then
🎫 Guests must be at least 10 years of age and a minimum height of 48" (4ft or 122cm) to enter The VOID's Star Wars: Secrets Of The Empire
🚀 All guests must accept Terms & Conditions before entering The VOID's Star Wars: Secrets Of The Empire, and any guests under 18 years of age must have a parent or guardian present at location to sign the Terms & Conditions in person
🎫 Each time slot is limited to a maximum of two wheelchair users
🚀 Should the winner be unable to take up the offer, we must be notified asap so that we can reallocate the prize
🎫 Entering this competition will automatically sign you up to the Skint London newsletter. May the force be with you!