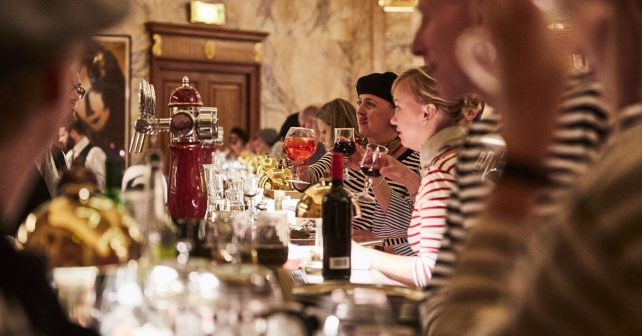 Listen very carefully my English chumz, we will say this only once. French  Brasserie, Zédel is giving out FREE three-course meals to dozens of lucky people this Bastille Day. And it could be toi!
The swanky West End hot-spot is dishing up the goodies to celebrate the national holiday on 14th July. As it wouldn't be a Gallic feast without wine the restaurant will be chucking in wine as well. Superbe!
How to participate? The restaurant has been doing this for some years now, but the occasion's become so popular they've decided to open an online ballot.
As it's that most sacred of French days, anyone who takes them up on the offer MUST dine in Breton stripes and a beret to enjoy the gratis grub and grog.
Zédel is no stranger to the freebie giveaway; they dished out dozens of set meals for anyone in fancy dress earlier this year that we covered on Skint London.
Winners can opt for lunch or dinner on Sunday 14th. Bonne Chance, mes amis!
Sun 14th July: FREE Bastille Day meal
Brasserie Zédel, 20 Sherwood St, Soho, W1F 7ED
Online ballot opens Tues 18th , 9.30am and closes Fri 21st June, 5pm.
Successful applicants will be contacted by Friday 28th June. One ballot entry per person only. A maximum table size of 6 people applies. Each entrant can select their preference for either an early/late lunch or early/late dinner.
Zédel's reservation team will be in touch with the successful applicants.
For a full list of Ts and Cs and how to enter click here