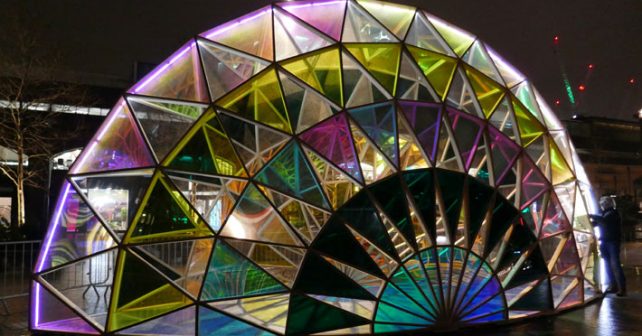 Here's a wondrous outdoor piece of art that's as deeply arresting as it is beautiful.
The Palm Temple in King's Cross is an eerily beautiful ,part-immersive-installation, part-warning-sign. Artist Luke Jerram's sculpture – inspired by Brunelleschi's Dome in Florence Cathedral – is a multi-coloured cut-in-half dome. (Jerram is the man behind the spectacular Museum Of The Moon, we featured a while back.)
Those that visit are encourage to go in and check out the colourful space that serves as a warning about the parlous state of the natural world.
Suspended high up in the dome is the Extinction Bell (above) which tolls anywhere between 150 to 200 times a day. That's once for each species lost forever per 24 hours.
The ersatz stain-glass windows light up in the sun and there's a colourful reflection on the mirrored floor below.
If you can't make it in the daytime, then make sure you swing by after dark as the statue is illuminated for the winter nights.
This one's a timely warning for all of us. Go.
Now – Mon 17th Feb: Luke Jerram's Palm Temple
Lewis Cubitt Square, King'sCross, N1C 4BT
FREE – for more info click here