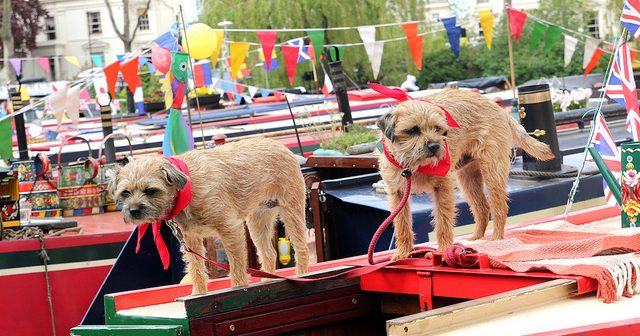 We've seen better Bank Holiday weather forecasts. But no matter what's the odd bit of drizzle when there's a three day holiday on the horizon.
====
Ahh, me hearties. Head to the canals for a combination of FREE live music, Morris Dancing, kids' activities and loads and loads and loads of boats – Canalway Cavalcade is always fun.
The three day jamboree celebrates all things nautical. Highlights this year include real ale bars, street food and karaoke for the big kids plus some kayaking, circus skills and some Punch and Judy for the littler ones.
Everyone can learn some water-based skills and how to preserve our waterways and wildlife. You can even hop on and hop off some participants' boats – just like these cheeky canines snapped above.
Sat 4th – Mon 6th May: Canalway Cavalcade 
Little Venice, W2
FREE entry – some activities cost. For a full programme of what's on and all other info click here
Throw yourself into some traditional British jigging at the FREE Merrie May Day in Hoxton.
Saturday's event at The Geffrye Museum includes traditional maypole dancing on the lawn as well as arts and crafts, homemade cakes and locally brewed beers. Enjoy!
Sat 4th May, 11am – 4pm: Merrie May Day
The Geffrye Museum, 136 Kingsland Road, E2 8EA
FREE entry – for more info click here
Get ready for two days of FREE family-friendly fun in town – The May Fair is on in Grosvenor Square.
The festival includes live music, (more) Maypole dancing and tons of things for the kids including a helter-skelter, carousel and coconut shy. There'll also be an environmental workshop taking place in the belly of an enormous whale. Standard.
Sat 5th & Sun 6th May, 11am – 6pm: The May Fair
Grosvenor Square, Mayfair, London W1K 2H
FREE – for more info click here
Watch thrills and spills at the Soapbox Derby in South East London.
The Telegraph Hill Soapbox Derby will feature all sorts of teams and self- built cars from across the capital. Check out the engineering ingenuity of kids, families and schools. English eccentricity and then some!
Mon 6th May, from 12pm: Telegraph Hill Soapbox Derby
Lower park, Telegraph Hill, London, SE14
FREE to watch. For more info click here
Need more inspiration?
Check out this FREE new charity art show in aid of Art Against Knives
Join Madness frontman, Suggs for a FREE night of chat and music on Sunday
Enter our competition and win tickets to Lucha Libre