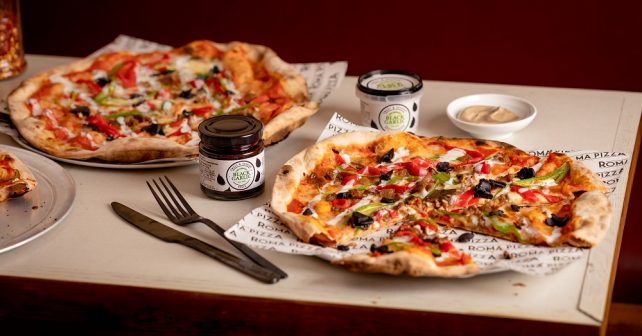 Here's something we never tire of telling you; there's (more) FREE pizzas coming up across the capital on National Pizza Day.
Five restaurants with five sets of freebies. Lucky Londoners who wonder down to either Roma Pizza​, ​​The Dough Shack or branches of Radio Alice on February 9th can pick up an Original Black Garlic on the house. They're promising the specialist slow cooked dough is caramalised, chewy and delicious.
Those near Wimbledon can pick up a pizza with goats cheese and bresaola. In Brick Lane it's a no charge roast aubergine offering while those who hit up Hoxton, Clapham and Canary Wharf sites can pick up a baked squash and mushroom pie – with or without salami – for absolutely nothing.
Tuck in! Just be sure to double check the times below.
Sun 9th Feb: 50 FREE Black Garlic pizzas (10 per participating restaurant).
Times vary. First come first served. Eat in or take away.
The Dough Shack, 25 Summerstown, SW17 0BQ (from 5pm)
Roma Pizza, 224 Brick Lane, E1 6SA (from midday)
Radio Alice Canary Wharf, Unit 24, Jubilee Place, E14 5NY (from 11am)
Radio Alice Hoxton, 16 Hoxton Square, N1 6NT (from midday)
Radio Alice, Clapham, 67 Venn Street, SW4  (from 11.30am)